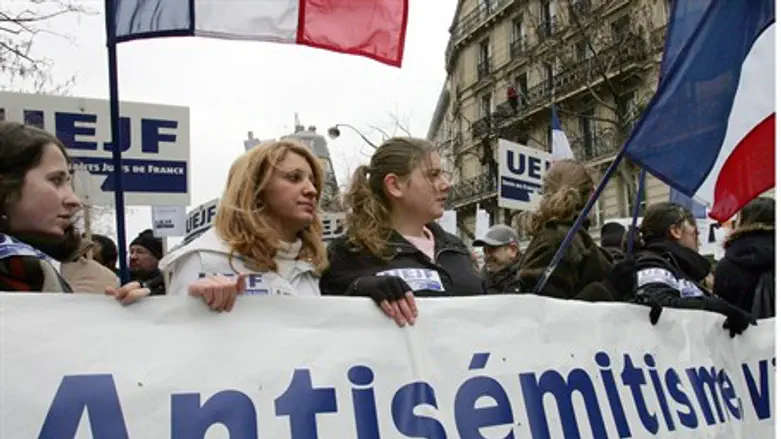 Paris march against anti-Semitism (file)
Reuters
The wave of anti-Semitic violence continues to rock French Jewry, as a gang of 20 attackers on Monday reportedly assaulted visibly Jewish students wearing kippot (yarmulkes) at a local library in the capital city of Paris.
The assailants, described by reports as being of North African descent and therefore likely Muslim immigrants, approached the Jewish students from two directions in the library, pouncing on them and beating them until they were bloody.
The Jewish students ran from the scene, and in the process two students were stabbed, leaving them with light wounds.
Security personnel at the library got involved and called up the police, who were able to arrest several of the attackers and bring them in for investigation.
The attack comes after a rally in Paris supporting the three Israel teens who were kidnapped by Hamas terrorists two weeks ago came under attack last Thursday. The anti-Semitic attackers hurled flares at the rally, scattering the participants; several of the attackers were arrested.
The recent attacks are just the latest in a long string of escalating anti-Semitic violence.
Two Saturdays ago, attackers reportedly approached a Paris synagogue in the city's 20th District armed with an AK-47 assault rifle and a handgun.
According to reports they began aiming their guns at bystanders and the building itself and pretended to open fire, but fled the scene when they saw armed French police officers guarding the synagogue. Reports say they escaped on a scooter.
The Saturday prior to that, two visibly Jewish teenagers wearing kippot report being sprayed with tear gas in Sarcelles, a northern suburb of Paris, by North African assailants. A week before that, two other Jewish teenagers, aged 14 and 15, narrowly escaped an axe-wielding man of Arab appearance in another Paris suburb.
Jewish Agency Executive Director Natan Sharansky spoke to Arutz Sheva on Monday about French aliyah (immigration to Israel), discussing the many factors driving the steep rise in aliyah recently, including the wave of anti-Semitic violence.
That rise in aliyah is such that a full 1% of the French Jewish community is expected to move to Israel by the end of 2014.