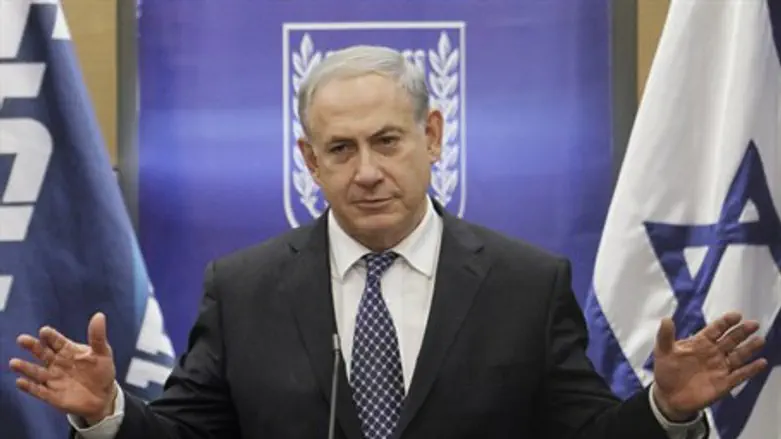 Binyamin Netanyahu
Flash 90
Prime Minister Binyamin Netanyahu responded to Hamas leader Khaled Meshaal's blessing toward the abductors of three yeshiva students Tuesday, calling the terror organization out on the difference between its face to the international community and its statements to the Arab world. 
"Last night we heard Khaled Meshaal, the leader of Hamas, praise and defend the brutal kidnapping of the three innocent Israeli teenagers who were making their way home from school," Netanyahu said. "Meshaal once again made clear that Hamas remains committed to its war against Israel and its war against every Israeli citizen, and coincidently, against every Jew around the world."
The Prime Minister expressed his appreciation for Palestinian Authority (PA) Chairman Mahmoud Abbas's condemnation of the abduction, but clarified that he will be tested in actions, not words.
"How can President Abbas make an alliance with these terrorists who extoll kidnapping?" he asked. "I appreciate what President Abbas said a few days ago in Saudi Arabia, rejecting the kidnapping. I think these were important words."
"Now, if he really means what he said about the kidnapping, and if he is truly committed to peace and to fighting terrorism, then logic and common sense mandate that he break his pact with Hamas. This is the only way that we can move forward."
"I think this is something that is shared by many in Europe who understand that the quest for peace and stability and tranquility means that we have to fight the forces of terror, intolerance and darkness," he added. "There can be no alliance with the kidnappers of children."
Earlier this week, Meshaal denied all knowledge of the abduction, and gave the kidnappers his "blessing" in an interview to Al-Jazeera. 
He added that the abduction is "a logical and natural reaction to the violations of occupation forces," and that "we support every resistance attack against the Israeli occupation, which has to pay for its tyranny."
The comments came hours after Hamas leader Ismail Haniyeh stated that a third intifada (terror war against Israel) had started, citing ongoing unrest in the Palestinian Authority (PA) as the IDF cracks down on Hamas in Judea and Samaria.
Despite Meshaal's denial that Hamas is involved in the kidnapping, both Prime Minister Binyamin Netanyahu and other security officials have confirmed again and again that the terror organization is behind the abduction. 
Operation Brothers' Keeper to find the boys - Naftali Frenkel (16), Gilad Sha'ar (16), and Eyal Yifrah (19) - is now well into its twelfth day. 
Since June 13, over 15,000 IDF soldiers have conducted nightly raids in the Hevron area, arresting some 360 terrorists and searching 1,800 suspected holding sites.