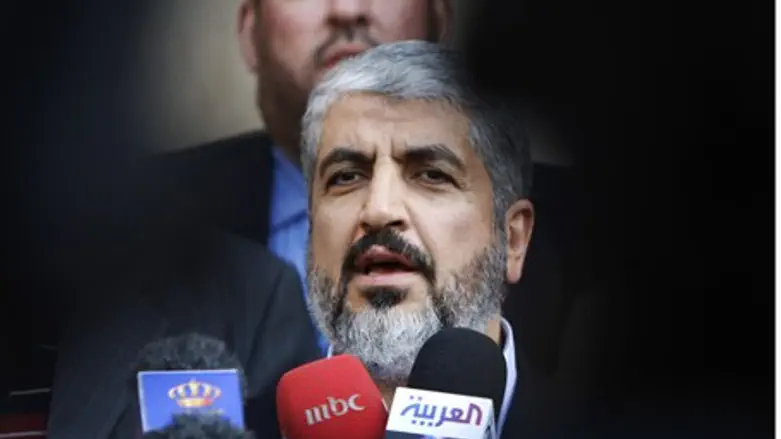 Hamas politburo chief Khaled Mashaal
Reuters
Hamas leader Khaled Mashaal on Monday denied that his group had any connection to the kidnapping of three Israeli teenagers, but said he welcomed the abduction.
Speaking with the Al Jazeera network, Mashaal claimed that Hamas had no information regarding the three, but said that if it turns out they were indeed kidnapped, "then blessed be the kidnappers, since it is a Palestinian obligation to release prisoners and make the occupation pay the price of the Palestinian suffering."
In a direct appeal to the families of the three teenagers, Mashaal accused Prime Minister Binyamin Netanyahu was responsible for the kidnapping, claiming his "disregard for Palestinian suffering" is the reason for the abduction.
"If Netanyahu had listened to the suffering of the (hunger) striking prisoners and had not opposed the national reconciliation agreement, the situation in the Palestinian arena would not have been so serious," he claimed.
Mashaal noted that the reconciliation agreement between Fatah and Hamas emphasizes taking action for the release of prisoners as a sacred national duty and devotion to using any means to realize this goal.
In addition, he said, the agreement calls for the establishment of a unified leadership in the struggle against the "occupation", the establishment of a new political authority and the end of the security coordination with Israel.
The comments come hours after Hamas leader Ismail Haniyeh stated that a third intifada (terror war against Israel) had started, citing ongoing unrest in the Palestinian Authority (PA) as the IDF cracks down on Hamas in Judea and Samaria.
Despite Mashaal's denial that Hamas is involved in the kidnapping, both Prime Minister Binyamin Netanyahu and other security officials have confirmed again and again that the terror organization is behind the abduction. 
Operation Brothers' Keeper to find the boys, as well as to subdue Hamas in the PA over the abduction, is well into its tenth day. At least 360 Hamas terrorists have been arrested and 1400 sites scoured in the search. On Sunday, an underground terror tunnel system was uncovered in Hevron.