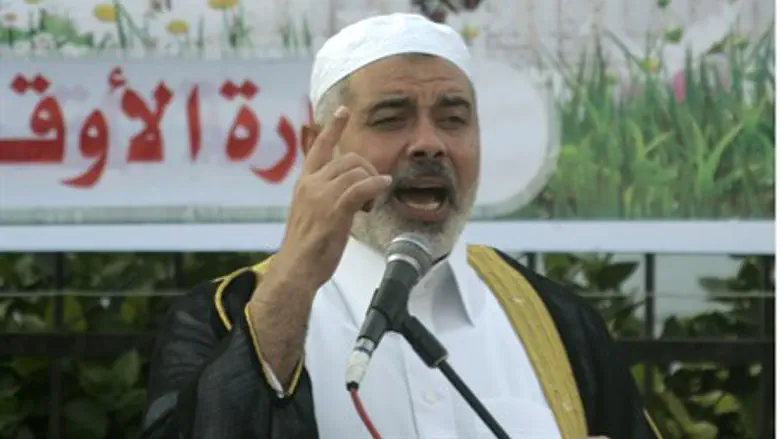 Hamas leader Ismail Haniyeh
Flash 90
Hamas leader Ismail Haniyeh stated that a third intifada (terror war against Israel) had started on Monday, according to AFP, citing ongoing unrest in the Palestinian Authority (PA) as the IDF cracks down on Hamas in Judea and Samaria. 
"We're not saying the intifada will start; we're saying it has started already in the West Bank [Judea and Samaria - ed.], and no one can stop it," Haniyeh told journalists in Gaza. "The enemy (Israel) cannot put a stop to the escalation of the resistance."
Haniyeh's remarks surface eleven days after three yeshiva students were kidnapped from Gush Etzion by Hamas terrorists, as both Prime Minister Binyamin Netanyahu and other security officials confirm again and again that the terror organization is behind the abduction. 
Operation Brothers' Keeper to find the boys, as well as to subdue Hamas in the PA over the abduction, is well into its tenth day. At least 360 Hamas terrorists have been arrested and 1400 sites scoured in the search. On Sunday, an underground terror tunnel system was uncovered in Hevron. 
Meanwhile, the ten-day operation has been marked with an upswing in violence against IDF soldiers, including several rock attacks and shooting incidents. 
Rocket fire from Gaza onto Israel has also been near-constant, with the IAF retaliating with airstrikes on multiple occasions over the past week and a half.