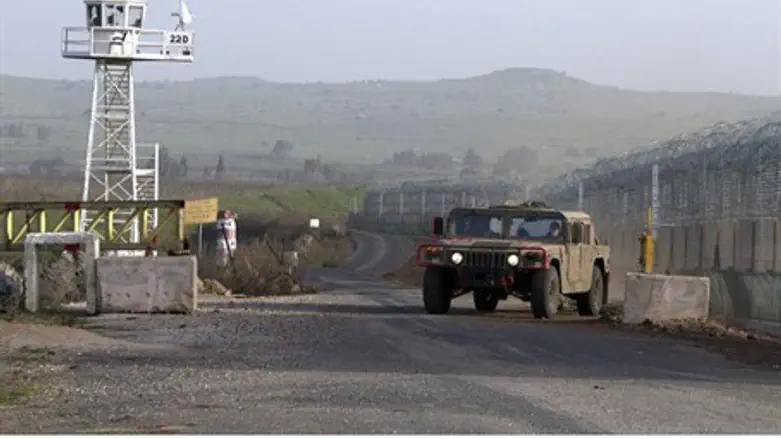 Israeli-Syrian border
AFP photo
Syria's Deputy Foreign Minister, Faisal Mekdad, on Sunday asked the United Nations to take actions against Israel, claiming it violated the 1974 ceasefire agreement in the Golan Heights.
According to Syria's SANA news agency, Mekdad spoke with the Under-Secretary-General of the Department of Peacekeeping Operations, Hervé Ladsous, who is visiting Syria to inspect the status of the peacekeeping force in Syria.
Mekdad reportedly cited Israel's "direct ties with terrorist groups" and its attack in Syria in March.
Syria uses the term "terrorists" when referring to the rebels fighting to oust President Bashar Al-Assad.
The attack to which Mekdad was referring to an Israeli airstrike on several sites on the Syrian side of the Golan Heights. The airstrike was in retaliation for a terror attack in which four soldiers were wounded.
According to SANA, Mekdad asked the UN Security Council to take prompt measures against Israel and the countries backing terrorist groups, adding that "these violations are not only a flagrant breach of the agreement, but also a threat that puts at risk the safety of the UN personnel."
He demanded that the United Nations help Syria in its counterterrorism efforts by obliging the countries that support terrorists to refrain from it.
Mekdad's comments come as tension continues along the Syrian border with Israel, due to the civil war in Syria.
Earlier this month, Syrian rebels shot at an IDF post near Mount Hermon; no one was hurt. In early March, two rockets landed also near an IDF post in Mount Hermon. No injuries or damage were reported in that incident.
The IDF was on "high alert" near the Lebanese border several months ago, since Hezbollah threatened to retaliate for an alleged Israeli airstrike on a convoy carrying weapons intended for the group and which was sent by Syria.
Syria's demand that the UN act against Israel was made on the same day that an Israeli teenager died in an explosion on the Israeli side of the Golan Heights.
The incident occurred when an explosive device was detonated near a passing vehicle carrying sub-contractors for the Ministry of Defense, which Israel said was deliberate. The teenager was the son of one of the workers, and he had accompanied his father to work on the first day of his summer vacation.
Israel retaliated by striking nine targets belonging to the Syrian army in the Golan Heights on Sunday night.
According to the IDF's statement, the nine targets of Sunday night's airstrikes included military headquarters and firing positions.