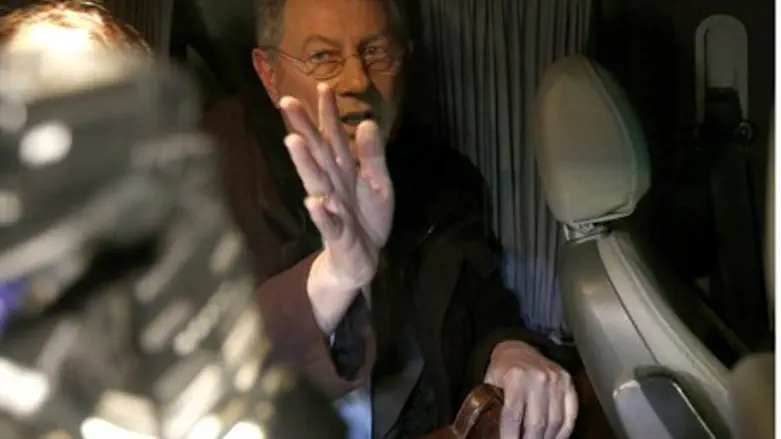 Robert Serry
Reuters
The United Nations' Middle East envoy, Robert Serry, on Friday spoke out against Israel's operation in Judea and Samaria to locate the three teenagers who were kidnapped by terrorists.
While Serry called for the release of the three, he expressed "deep concern" over Israel's arrest of wanted terrorists.
"The United Nations understands that these security operations and tightened restrictions on  movement throughout and in and out of the West Bank are part of all possible efforts by Israel to bring the three youths home safely. We continue to call for their immediate release," Serry said in a statement.
"At the same time we call for restraint and expect Israel to carry out the related security operations in  compliance with international law and respect for the lives, dignity and livelihoods of Palestinians," he added.
Israel, said Serry, "should thus seek to minimize the impact of security operations on individuals who have committed no offense and investigate allegations of excessive use of force, including  the killing of civilians."
"The Special Coordinator is concerned that without restraint from all sides in these dramatic circumstances, it will become even more difficult to address an already critical security situation on the ground," he added.
Overnight Thursday, the IDF arrested another 25 terrorists as it entered the eighth day of Israel's search for kidnapped yeshiva students Naftali Frenkel, Gilad Sha'ar, and Eyal Yifrah.
The Palestinian Authority claimed that during the operation, IDF troops had shot a 14-year-old boy to death in Dura, near Hevron.
The IDF said it was looking into the claims, telling AFP that soldiers were attacked by Arabs throwing firebombs and rocks when they entered Dura to arrest a terror activist and responded with live fire.
Serry recently became the first senior international official to meet with ministers of the new Hamas-Fatah unity government in Gaza. Hamas has been identified as being responsible for the kidnapping of the three boys.
Former Israeli Ambassador to Canada Dr. Alan Baker has formally requested that UN Secretary-General Ban Ki-Moon revoke the Palestinian Authority's (PA) observer status, in light of their unity with Hamas.
"The tragic abduction and imprisonment of three young Israelis by a terrorist organization, attached to what you call the 'State of Palestine' and now considered a state observer at the UN, is a gross violation of humanitarian norms and conventions," Baker wrote.
(Arutz Sheva's North American Desk is keeping you updated until the start of Shabbat in New York. The time posted automatically on all Arutz Sheva articles, however, is Israeli time.)