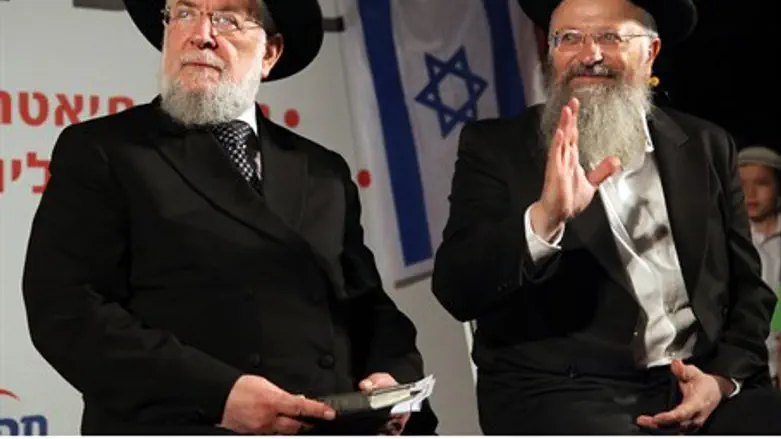 Rabbis Lau and Eliyahu at Tel Aviv rally
Flash 90
Approximately 700 residents of Tel Aviv and the vicinity gathered on Sunday evening at the Rabin Square for a prayer vigil for the safe return of the three yeshiva students who were kidnapped in Gush Etzion.
The prayer rally was attended by the Chief Rabbi of Tel Aviv, Rabbi Yisrael Meir Lau, Rabbi Shmuel Eliyahu of the city of Tzfat, and Tel Aviv-Yafo Mayor Ron Huldai.
Rabbi Lau, who led the crowd in the reading of Psalms (Tehillim), called for the quick return of the three boys.
"We must not wait so long as was the case with Gilad Shalit," he said.
One of the organizers of the rally, Itay Granek, said, "Since we learned of the abduction of the boys last Friday, the sound of prayer for their safety has been heard all over the country. Today we gathered also in the heart of Tel Aviv, both religious and secular residents, for a solidarity and prayer rally for their quick and safe return."
The prayer rally in Tel Aviv was indeed the latest in a series of prayer rallies throughout Israel. Earlier Sunday, the Ashkenazi and Sephardic Chief Rabbis of Israel led a mass prayer gathering at the Kotel for the three abducted youths.
Also on Sunday, hundreds of national-religious schools across Israel held a mass prayer session for the safe return of the three.