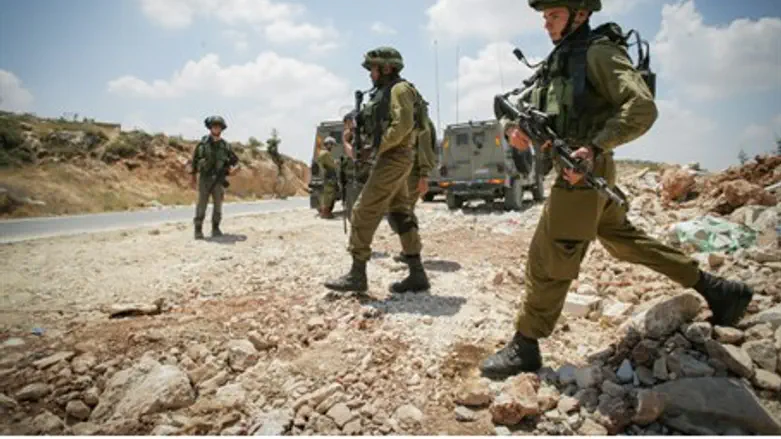 Soldiers search for three missing students
Flash 90
The Palestinian Authority (PA) is not responsible for the disappearance of the three yeshiva students who went missing near Hevron, a spokesman for the PA's security services said Friday.
The spokesman, Adnan al-Damiri, was responding to a statement from Prime Minister Binyamin Netanyahu's office, which earlier held the PA leadership responsible for the boys' disappearance.
"Three settlers are missing, why is this the fault of the Palestinian Authority? We have nothing to do with this issue," Damiri said, according to Reuters.
"If a natural disaster hits Israel, would we be responsible? This is mad and unacceptable, we have no knowledge about this," he added.
The three students, two of whom are from the Makor Chaim Yeshiva in the religious kibbutz Kfar Etzion, went missing Thursday night.
All communication was lost with them as they were on their way home from the yeshiva, located in Gush Etzion, roughly between Jerusalem and Hevron in Judea. Security sources suspect they may have been taken into a vehicle driven by terrorists that stopped for them as they waited at a popular hitchhiking spot.
Massive IDF and police forces have been searching in the hours since the suspected kidnapping to try and locate the three young students, one of whom is a joint Israeli-American citizen.
IDF Spokesman Motti Almoz said on Friday evening that the entire defense establishment was doing everything in its power to locate the three, but would not go into further details due to the sensitivity of the situation.
"We understand the need to know more information, but suggest that everyone be patient. After the incident is over, we will provide more details," he told reporters.
(Arutz Sheva's North American Desk is keeping you updated until the start of Shabbat in New York. The time posted automatically on all Arutz Sheva articles, however, is Israeli time.)