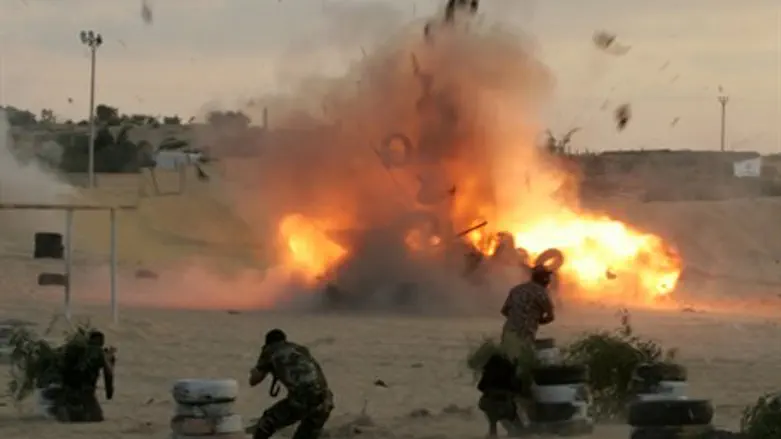 Gaza terrorists train with explosives (file)
Flash 90
Terrorism training went awry on Friday morning, as an accidental explosion at one of Hamas's Gaza terror bases left four clumsy terrorists injured.
The explosion occurred at a training camp in Khan Younis, in the south of Gaza.
Hamas's Ministry of Healthy spokesperson Ashraf al-Qidra told Arab Ma'an News Agency that the four were taken to local hospitals for treatment.
Al-Qidra described their wounds as ranging between "moderate and dangerous."
The blast is not the first "work accident" by bumbling Gaza-based terrorists.
Just two weeks ago, an Islamic Jihad terrorist died in Jabalia, a town in northern Gaza, after an explosive he was handling exploded on him.
Two other Islamic Jihad terrorists died two days earlier in an explosion that reportedly occurred while training with various devices.
Likewise, a Hamas terrorist was killed by an explosion in early March which wounded nine others, in a blast that "occurred during a training session in bomb-making," according to a spokesperson of Hamas's military branch.
Such "work accidents" are not limited to Gaza; in March a Sinai-based terrorist group acknowledged that one of its founders, who took part in the 2011 coordinated attack on Eilat that killed eightIsraelis, died. The terrorist was involved in a car crash, which detonated the explosives he was transporting.