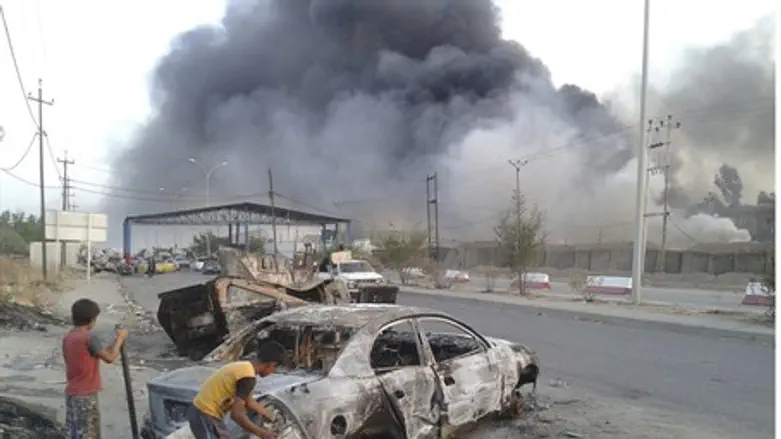 Children in ISIS-captured Mosul
Reuters
The Islamic State of Iraq and the Levant (ISIS), an Al-Qaeda-inspired Islamist group that has taken over the Iraqi city of Mosul, has begun to implement Islamic Sharia law in the city.
Since taking over Mosul, members of the group have been handing out documents to residents, stating that Islamic law is binding from now on and which ban any contact with the Iraqi government and its institutions.
Police and security forces were given the opportunity to ask for a pardon, and the document stress that those who do not do so are likely to be given a death sentence.
Men will be required to participate in public worship and those who do not will be sentenced to received lashes, while women will be required to cover their faces and remain permanently in their homes and not leave them unless necessary, the documents state.
Robbers and thieves will be sentenced to death, crucifixion or cutting off of hands and feet. Carrying weapons is now prohibited, and the penalty for violating this directive is death.
The group has begun turning southward towards Baghdad, after conquering Mosul and several other northern cities this week in a lightning offensive.
ISIS rebels have also implemented Sharia law in areas of Syria which it has taken over. Steps taken include a ban on mannequins in shop displays as well as a ban on singing and dancing at weddings.
Al-Qaeda affiliated jihadist rebel groups in Syria have also warned citizens against "hurting the dignity" of the prophet Muhammad, threatening those who do so with execution.