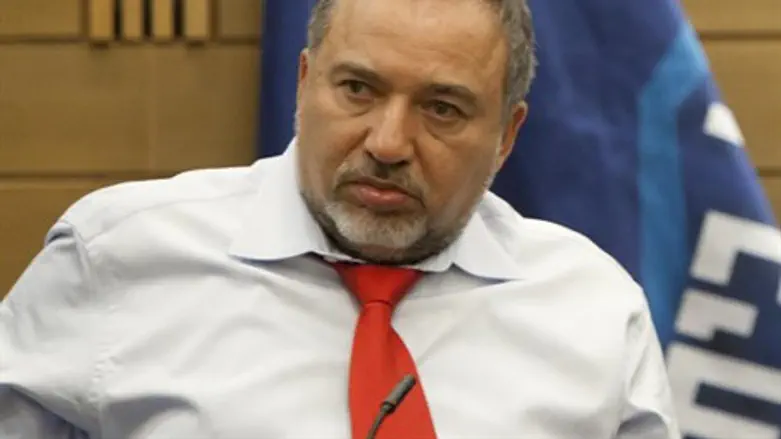 Foreign Minister Avigdor Liberman
Flash 90
Foreign Minister Avigdor Liberman (Yisrael Beytenu) sharply criticized Prime Minister Binyamin Netanyahu's leadership on Monday, accusing the premier of having no direction and allowing confusion to run the State of Israel. 
"What happened yesterday, when four senior ministers gave public addresses one after the other with each proposing a different political solution, was a grotesque performance," Liberman said, speaking at the Institute for Certified Public Accountants' conference in Eilat. 
"One minister spoke of annexation, another minister spoke of deliberation, the third minister spoke of segmentation, and the last spoke of stagnation," he added. "That is not a government policy. We need to cut down and adopt a single political plan to bind all parts of the coalition."
Liberman emphasized that the splintering of the coalition is cause for urgent - and immediate - action, before the government begins making poor decisions to keep itself together. 
"We need to do this as soon as possible, because if we do not do it of our volition we will be dragged towards what we do not want and what is not in our best interest," he said. 
Liberman took particular issue with Economics Minister and Jewish Home Chairman Naftali Bennett and Finance Minister and Yesh Atid Chairman Yair Lapid - both of whom presented opposing plans for Israel's future during Sunday's Herzliya Conference. 
"The Economics Minister spoke of annexing settlement blocs and the Finance Minister threatened to disband the coalition if such a plan is approved," Liberman lamented. "They both know they are talking about something that will never happen."
The Foreign Minister did not leave anyone out for scrutiny, however - also taking Justice Minister Tzipi Livni to task over her insistence on continuing to follow the Oslo Accords. 
"[Livni] speaks of continuing the Oslo Process, 21 years after it was started and failed," he fired. "It reminds me of [US Secretary of Defense Chuck] Hagel's observation that 'governments have never learned anything from history.'"
But Livni is not the only minister guilty of burying her head in the sand, according to Liberman. 
"Interior Minister [Gid'on Sa'ar] spoke of continuing the status quo and it simply does not work," he stated. "It's like in soccer, if you do not initiate and are always defending, you eventually concede a goal."
Regarding peace talks, the Foreign Minister reiterated his long-time stance on the issue: that peace with the Palestinian Authority (PA) is only attainable as part of a "package deal" which solves regional problems with the rest of the Arab world. 
"In the Middle East everyone is afraid of everyone and we need to bring everyone to the negotiations table in one fell swoop and solve everything simultaneously," he added. "The situation today is not what it was more than 10 years ago when they first proposed the Arab Peace Initiative. It is no longer quiet in the Arab world."