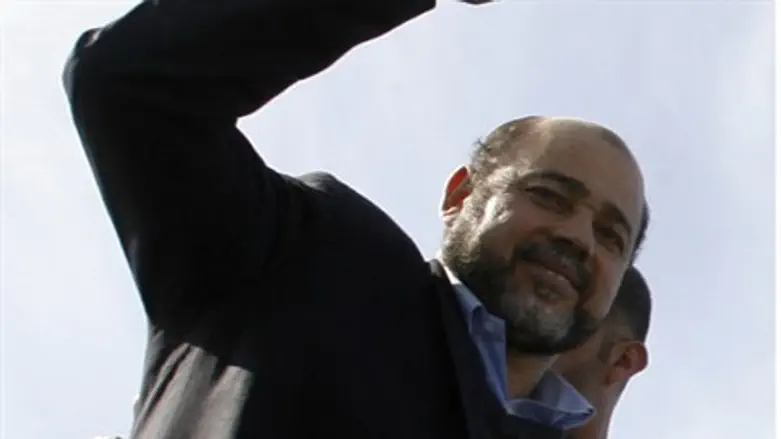 Moussa Abu Marzouk
Flash 90
Hamas deputy leader Moussa Abu Marzouk, who is in charge on behalf of Hamas of the reconciliation with Fatah, confirmed on Thursday that Qatar had agreed to pay the June salaries of public sector workers in Gaza.
Speaking with Hamas's Al-Aqsa television, Abu Marzouk said that prior to the Qatari announcement, Fatah and Hamas had agreed that they would ask Arab states to resolve the payment of salaries to all public sector workers in both Judea and Samaria as well as Gaza.
Abu Marzouk said that during the negotiations on the implementation of the reconciliation agreement between the sides, there was a consensus that the salaries of all public employees would be guaranteed, regardless of political belonging. The issue is a complex one, he said, because of the increased number of public sector employees, who number 210,000, of which 40,000 were hired during the period that Hamas was controlling Gaza.
This is not the first time that Qatar has assisted the Palestinian Authority (PA), whose leaders continue to claim that it is suffering from an economic crisis.
In 2012, the emir of Qatar visited Gaza, bringing with him $250 million for a hospital and homes in Gaza, as well as a pledge for nearly another quarter of a billion of dollars.
The country has also provided Gaza with funds to return its power plant to life after it ran out of fuel, mostly due to an Egyptian siege on the region and internal disputes between Hamas and Fatah.
This would not be the first time that the PA has asked for foreign donations. In 2012, the Arab League pledged to transfer a monthly sum of 100 million dollars to as a "financial safety net" to the PA.
Referring to the possibility that the West would end its aid to the PA over the unity government with Hamas, Abu Marzouk said that the PA does not need the $200 million it receives from the United States which is conditional upon the PA cooperating on security-related matters, as Hamas believes in putting an end to any American sponsorship of decision-making by the PA.