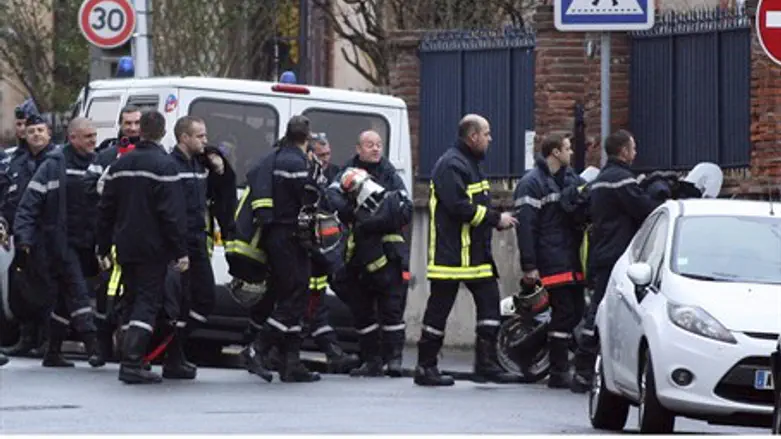 Mohammed Merah's Toulouse apartment (file)
Reuters
Souad Merah, the sister of the terrorist responsible for the heinous 2012 attack on a Jewish school in Toulouse, France, has disappeared from surveillance. Merah, who has been described as a "potential terrorist," is believed to have gone to Syria to take part in the war.
Souad Merah's brother Mohammed murdered Rabbi Jonathan Sandler, his sons Aryeh and Gavriel, and another pupil, Miriam Monsonego, at the Ohr HaTorah school in 2012. He also murdered three French soldiers, before being killed while trying to flee a police raid on his apartment.
While Souad has long been suspected of helping Mohammed plan the attack, she has never been charged, unlike her older brother Abelkader and two other men who were found to be involved.
French authorities detained her for questioning in April as part of the investigation, but two weeks ago French Interior Minister Bernard Cazeneuve admitted Souad has fled France, likely for Syria, according to the French news site The Local.
The suspicion that she had fled for Syria derives from the fact that the Algerian-born woman's husband is believed to be fighting alongside jihadists in the country.
Souad's disappearance was discovered by French intelligence agents after her four children did not show up at their Toulouse school after the Easter holidays in April. An investigation was opened in mid-May.
Abdelghani Merah, another brother of Souad, described her as a "potential terrorist" capable of a "suicide attack," in his book "My Brother, the Terrorist."
According to her brother, Souad slowly became radicalized in her adherence to Islam after her husband got arrested for drug smuggling in Spain and became religious.
The book claims she was "well aware" of Mohammed's stockpile of weapons and plans to attack, driven by the belief that "Jews kill our brothers and sisters in Palestine."
Souad was recorded secretly saying "I am proud of my brother, who defended himself well. I'm proud. He fought until the end." The recording was part of a special report by M6 TV. The report triggered an investigation into whether she had glorified terrorism, although no charges were filed. Souad claimed in an interview that she had been taken out of context.