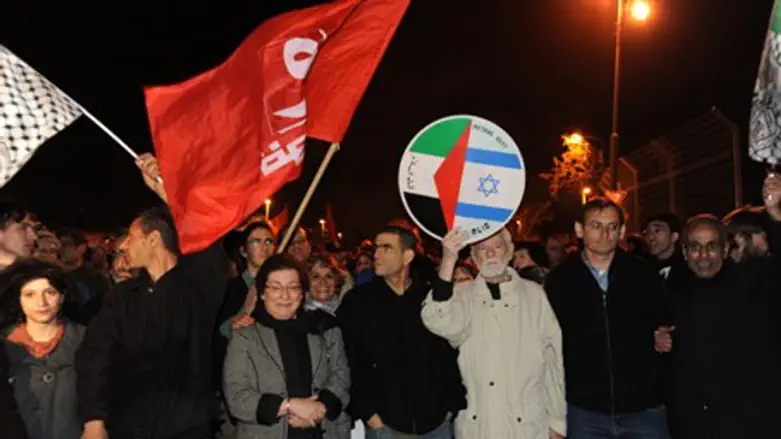 (file)Dov Henin, far right, partticipating i
Flash90
MK Dov Henin (Hadash) said Monday that he would deliberately disobey a police order not to hold a protest in Tel Aviv.
As a Knesset member, Henin has immunity from arrest in such matters, but it was likely that other protesters would also participate in the protest Henin was set to leave, making them eligible for arrest, with Henin inciting them to violate the law.
Henin also slammed police for denying a leftist group a permit to protest in Tel Aviv. The unspecified far-left group sought to hold a protest against the "occupation," on the 47th anniversary of the liberation of Judea and Samaria in the 1967 Six Day War. According to Henin, police told him that they would not permit the protest set for a residential area because it would bother residents.
In an angry post on Facebook, Henin wrote that Tel Aviv residents could do with a little "rousing from their slumber" with the protest he was supposed to lead.
"It appears that people living under occupation who continue to pay a high price for their suffering are not worth riling things up a little bit for," he said.
Henin said that he planned to hold the protest anyway. "We will meet as we always do, Arabs and Jews together, for the sake of Israeli-Palestinian peace."