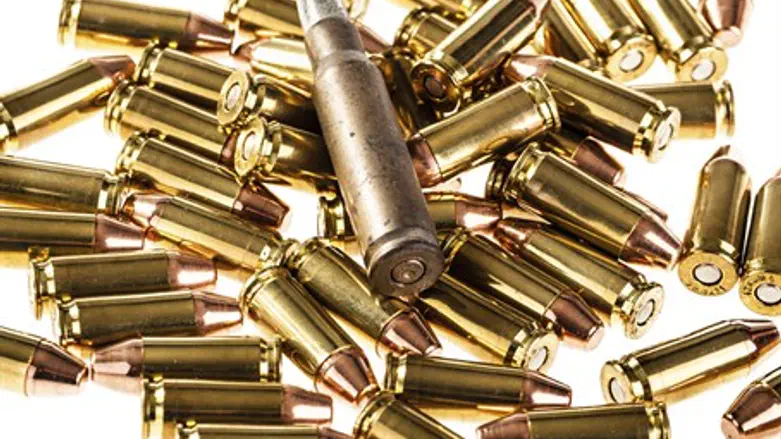 Bullets (illustration)
Thinkstock
An apparent serious terror attack took place in northern Jerusalem's Ramat Shlomo neighborhood late Friday night, but most Israeli and Jewish news sources are ignoring the incident.
According to hareidi news site Behadrei Haredim, the attack took place at 1:45 a.m. Saturday. An eyewitness, Eli Shreiber, said that he was sitting in a synagogue when he heard three gunshots, followed by a burst of automatic fire. He and his friends immediately went out into Goldknopf street and headed toward the source of the gunfire.
The shots, he said, had apparently been fired by a terrorist who had leaned on a fence on Buksboim street and aimed at a group of youths who were in a public garden on Goldknopf street, some 70 meters away.
The youths who had been sitting in the garden told Shreiber that the first two gunshots did not cause them any distress, but when the third shot struck a metal structure in the playground, they realized they were being fired at, and ran away as fast as they could. That was when the automatic burst was fired at them.
Shreiber told Behadrei Haredim that police found 13 empty bullet casings behind the fence, where the terrorist apparently stood, and that a bullet was found in the garden where the youths had been sitting.
Police arrived in large forces, including Yasam and Yamam SWAT forces, and a police helicopter was also deployed. Police presence was felt throughout the Sabbath.
Strangely, however, the Jerusalem police insisted Sunday that "it is still not clear what the nature of the attack was."
Apparently following the police's lead, Israel's mainstream media – which makes front page headlines out of graffiti attributed to Jews – has not even deemed the potentially lethal attack inside the capital newsworthy.
A Google search indicates that besides Arutz Sheva, Behadrei Haredim and another hareidi site, Kikar Hashabat, only the Jewish Press and the Maariv-NRG website reported the attack.
Arutz Sheva is the only news source to consistently report Muslim terror attacks on Jews in Israel. For reasons that remain unclear, Israel's police, media and many of its top politicians appear adamant to pretend that these attacks do not exist, and to keep the public unaware of them.
After another recent attack, in which firebombs were thrown at a bus full of bar mitzva girls, Times of Israelblogger Rob Miller cited Arutz Sheva and noted: "The media never reported this. Not the Jerusalem Post, Yediot, Y-Net, Israel Hayom, Israel 24, The Times of Israel, and certainly not Ha'aretz.
"Was it just because this time, no one was murdered? Or is it that there's an agenda at work here to deliberately ignores this sort of hideous crime against innocent children?"
An epidemic of burglaries that plagued Ramat Shlomo, which is home to about 20,000 people, has reportedly subsided somewhat recently, as a result of neighborhood patrols that are coordinated with the Israel Police. However, there is serious concern in the neighborhood that security will deteriorate as a new road connecting Ramat Shlomo with the adjoining Arab neighborhoods of Shuafat and Beit Hanina is completed.
Jerusalem Councillor Aryeh King promised to convene the city's Committee for Emergency and Security Matters in two weeks' time and demand explanations from police, whom he accused of neglecting the residents' security.