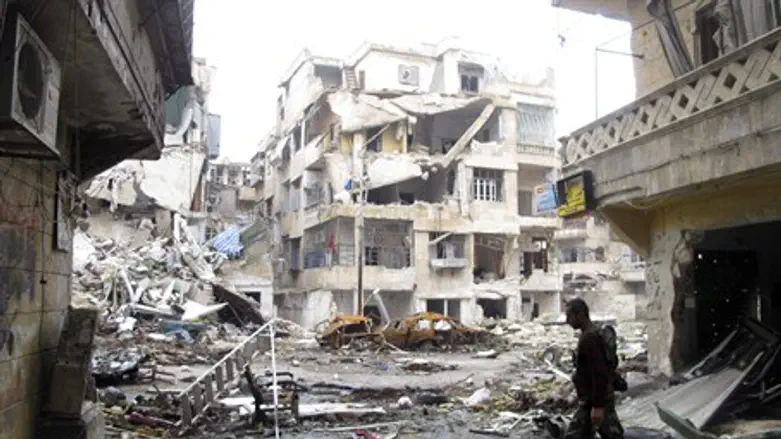 A debris-filled street in Aleppo
Reuters
Nearly 2,000 civilians, more than a quarter of them children, have been killed this year in a massive Syrian air offensive on rebel-held areas of Aleppo province, a monitor said Friday, according to AFP.
The staggering toll from barrel bombings and other air attacks comes just ahead of Tuesday's presidential election, which is expected to return Bashar Al-Assad to power for a third, seven-year term.
From the beginning of January through Thursday, air raids killed 1,963 civilians, including 567 children and 283 women, the Syrian Observatory for Human Rights said.
Control of Aleppo city, Syria's former commercial hub, has been divided since a rebel offensive in July 2012. Government aircraft have been targeting opposition-held areas there as well as nearby towns and villages.
The offensive began in mid-December, and intensified in January, with helicopters raining down barrels bombs, causing a massive exodus.
"In Aleppo, the regime's idea is to empty the city of its residents, to cause the maximum destruction possible," said Observatory director Rami Abdel Rahman, according to AFP.
He added that hundreds of elite fighters from Lebanon's Shiite Hezbollah are participating in the regime offensive on the city.
Barrel bombs are cylindrical metal containers packed with explosives and scrap metal that are unguided and so kill indiscriminately.
The United States has denounced them as "barbaric," and rights groups have said their use could be a war crime.
In April, Human Rights Watch said, "President Assad is talking about elections, but for Aleppo's residents, the only campaign they are witnessing is a military one of barrel bombs and indiscriminate shelling."
In January, the UN Security Council had been working on a statement that would have expressed outrage at the use of missiles and barrel bombs by Assad's forces, but Russia vetoed the initiative.
Syria's election will be held only in government-controlled areas inside Syria and in Syrian embassies, where voting began on Thursday.
Assad, whose family has ruled Syria with an iron fist for four decades, is expected to win hands down against two little-known challengers.
The opposition has dismissed the vote as a "farce" and the United States calls it a "parody of democracy."
(Arutz Sheva's North American Desk is keeping you updated until the start of Shabbat in New York. The time posted automatically on all Arutz Sheva articles, however, is Israeli time.)