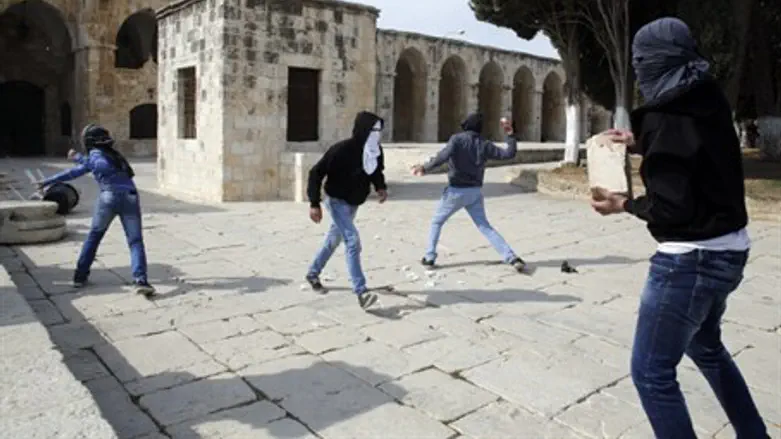 Arab rock throwers on Temple Mount
Flash 90
Masked Arab youths threw stones at Israeli police on the Temple Mount in Jerusalem on Wednesday morning, just in time for Jerusalem Day.
In response, the police stormed the Temple Mount area, at which point the stone throwers retreated to the Al Aqsa Mosque while continuing to throw rocks and fireworks at the police, reports Walla!.
One police officer was reported as lightly wounded after being hit a rock thrown by the rioters.
The police have enlarged their forces around the Mount, in response to the large number of Jews visiting the site for Jerusalem Day. Muslim visitors to the site shouted derisive calls against the Jewish visitors before the violent clashes broke out.
Access was closed by the police due to the rock throwing. 1,000 foreign tourists had managed to visit the site before the closure, as opposed to only 250 Israelis.
Jerusalem Day this year marks the 47th year since the Six Day War in which the 3,000-year-old Jewish capital was liberated from Jordanian occupation and unified.
Jews are regularly arrested for praying on the Temple Mount, an act forbidden by the Jordanian Waqf (Islamic trust) that rules the holiest site in Judaism in a de facto manner.
Responding to the situation, activists marched toward the Temple Mount in early March, demanding full Israeli sovereignty over the site. Two activists were injured by police and six were arrested for disturbing the peace, including a fifteen year-old girl.
The Temple Mount was plagued by particularly heavy Arab riots in April, which included an incident in which Hamas activists took over the holy site during the Passover holiday.