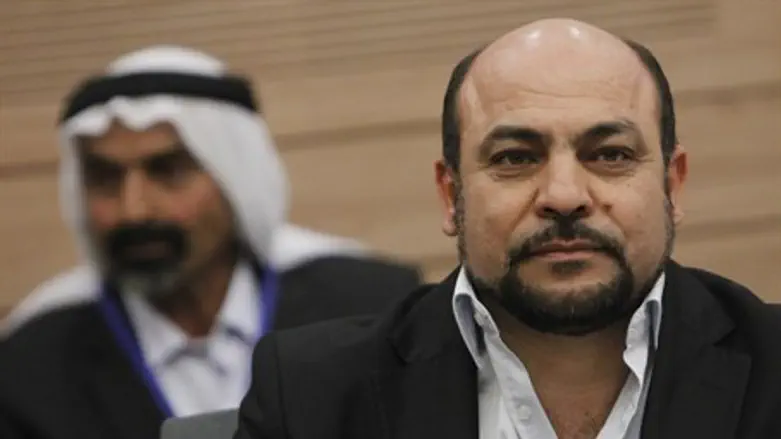 Masud Ganaim
Flash 90
Arab MK Masud Ganaim (Raam-Taal) appealed to the Palestinian Authority (PA) for help fighting the Jewish State Law, proposed by Prime Minister Binyamin Netanyahu on May 1, which would affix Israel's status as the nation-state of the Jewish people as a Basic Law.
Speaking to the terrorist organization Hamas's journal "Palestine" on Tuesday, Ganaim said the new law could have far-reaching negative consequences for the "Palestinian problem," and particularly for "Palestinian" citizens of Israel, referring to Israeli-Arabs.
According to the Arab MK the law would leave non-Jews without rights, and would pave the road for expulsions and the removal of rights. In proposing the law, Netanyahu took pains to say it would not harm the rights of non-Jewish citizens, but was simply meant to cement the basic right of the Jewish people to political sovereignty in their homeland.
The new law would determine that the rights to the land of Israel belong to the Jewish people alone, and that Jews have the legitimate rights to the land while the Arab residents are strangers on Jewish land, warned Ganaim.
Ganaim noted that several left-wing Jewish MKs, foremost among them Justice Minister Tzipi Livni, have opposed the law alongside the Arab MKs and the extreme-left Meretz party.
The Arab MK called on the PA to speak out against the law, and to shape international opinion against it. The PA, which this week is to announce a unity government with Hamas, has already adamantly refused to recognize Israel as the Jewish state.
Part of a wider problem?
This is not the first time an Arab MK has openly collaborated or identified with a terrorist group.
Ganaim visited a senior Hamas terrorist, Dr. Aziz Duwaik, in his Hevron home in 2009. Meanwhile MK Ibrahim Sarsour, the Chairman of Ganaim's Raam-Taal party, called jailed terrorists "political prisoners" in February.
The party in February discussed "the Palestinian interior" – that is, Israel – and "the occupied state of Palestine," calling for the liberation of Jerusalem from "occupation."
In a more extreme example, former MK Azmi Bishara, a founder of the Arab nationalist party Balad, fled Israel in 2007 after learning he was going to be arrested for aiding Hezbollah terrorists.
Bishara is still wanted for questioning in Israel for transmitting information to Hezbollah during the 2006 Second Lebanon War, helping them more accurately target Israeli citizens in their missile onslaught against northern Israel. Despite the serious nature of the charges, until the 2011 passing of the "Bishara Law" the former MK was still receiving full pension from Israel, pocketing a total of 500,000 shekels (roughly $143,000).
However in February, Dubai's Deputy Police Commissioner Dahi Halfan demanded that Bishara leave the Persian Gulf where he is living in Qatar and return to Israel, accusing him being part of an "Israeli plot" to control the Gulf states.