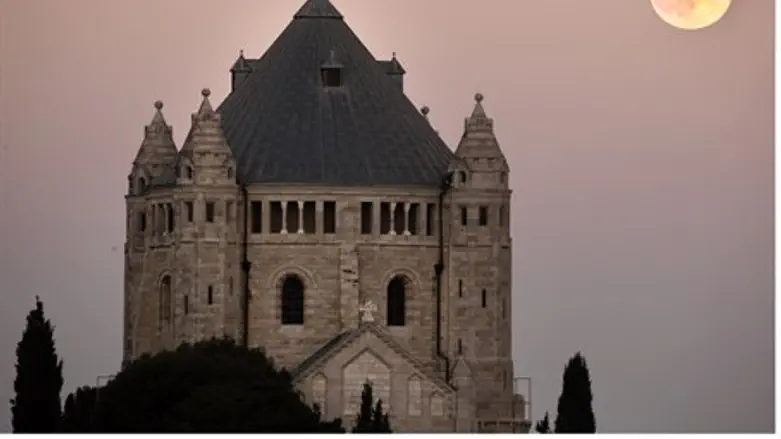 Church of the Dormition
Flash 90
Jerusalem police were called on Monday evening to the Church of the Dormition in the Mount Zion compound to probe the torching of a guestbook.
Officers questioned several eyewitnesses, who indicated they had noticed an unidentified man with a non-Jewish appearance who entered the church.
According the eyewitnesses, the man wandered around the church and at one point took a candle and went down to the lower level of the church. Immediately afterwards, the eyewitnesses said they smelled something burning and upon going downstairs discovered the burning guestbook.
The fire was extinguished and the suspect fled the scene. Police continue to investigate.
The incident took place hours after Pope Francis had held a public mass at the Upper Room on Mount Zion, in which Jesus is believed to have held the Last Supper.
The Benedictine Abbot of the church, Nikodemus Schnabel, told AFP that police "say [the arson] was not an accident", but it was not clear whether the incident was related to the Papal visit.
Security forces were on high alert during the visit of the Pope, which officially ended on Monday evening, but the visit concluded without incident.
During the day, Pope Francis made an unscheduled visit to a monument in memory of terror victims while visiting the Har Herzl national cemetery in Jerusalem. The visit followed a stop at the Temple Mount and Western Wall, and ahead of a tour of the Yad Vashem Holocaust Museum.
He later met with President Shimon Peres at the Presidential Residence in Jerusalem.