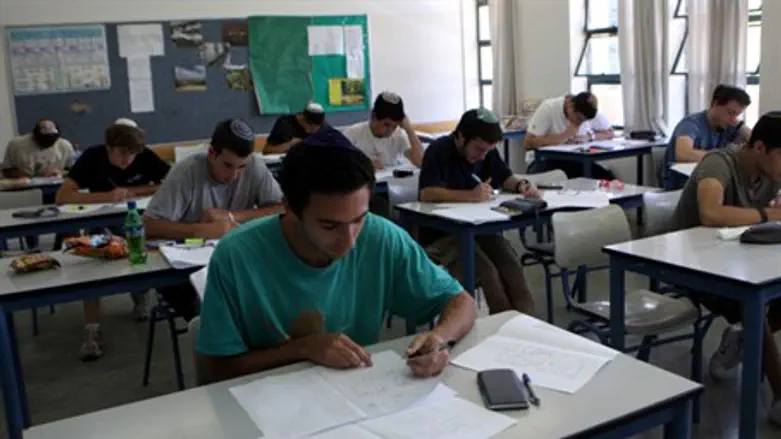 Students taking a matriculation exam
Flash90
Hundreds of Israeli high school students protested the continued imprisonment of Jonathan Pollard in a novel way Sunday. The students taking the math bagrut (matriculation) exam wrote their own "math equation" in test booklets. "29 years = far too much," the message said, urging President Shimon Peres to convince President Barack H. Obama to release Pollard, who has been in an American prison for nearly three decades.
The protest was organized by a student group called Youth for Pollard, which over the years has sponsored protests and demonstrations urging the US to release Pollard. Among those activities is an online petition aimed at Peres, urging him to make a "do or die" case for Pollard's release on his last visit as Israeli president to the White House, scheduled for next month.
Some students were nervous about writing the protest "equation" on their test papers, but most were willing to take the risk. Yoav, an eleventh grader from Ra'anana, said that he was cautious about participating, because "the math matriculation is the most difficult one and I need every point. But I feel we cannot remain silent. If we expect our president to show courage and demand Pollard's release from the US president, we too must show that we have some courage as well."
Anbar, a 12th grader, said that she participated with a whole heart. "The matriculation tests are perhaps the height of academic effort by Israeli students. It is a perfect time to show that other values are important as well. I truly hope that this protest will have an effect," she said.