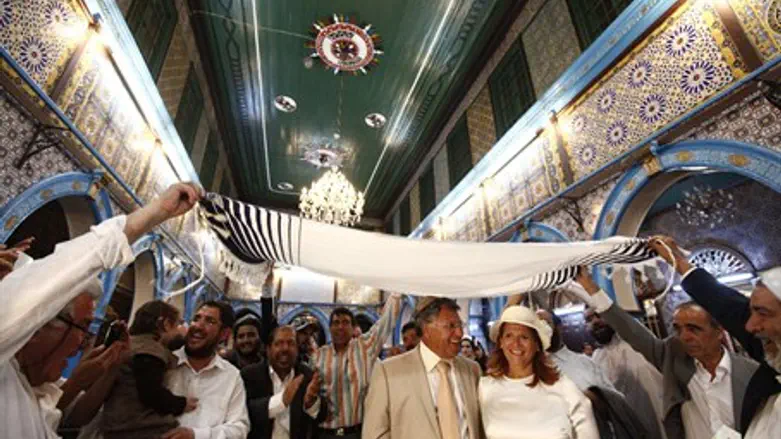 Synagogue (illustration)
Reuters
There have been "rumors" that doors of Beirut's Magen Avraham Synagogue are set to reopen after more than 40 years, writes Middle Eastern site Al Bawaba, which cites Asharq Al-Awsat.
The head of the Jewish community in Lebanon, Isaac Arazi, told Asharq Al-Awsat that efforts are being made to revive the community's public presence in Lebanon, including renovating and reopening the Magen Avraham Synagogue—the only existing synagogue in the capital: "Lying in the Wadi Abu Jamil neighborhood of the Beirut Central District, historically home to the largest number of Jews, it was destroyed during the civil war that broke out in the 1970s."
"We have managed to collect donations from the Jewish community abroad," he said, "all of them being Lebanese Jews. Christians and Muslims have also contributed to the reconstruction of our synagogue."
He lashed out against the perception that the Jews' relationship to the Jewish homeland to the south creates a double-allegiance problem. Speaking forcefully, he said, "To be clear, if our allegiance was to Israel, then we would not stay here another moment." He denied any relation to those who wish to live on the land of "Palestine," stressing that "not all Jews are Zionists. Our identity is Lebanese and we belong to Lebanon, a hundred percent."
While the Lebanese state officially recognizes the existence of Lebanon's Jewish community, affording it civil and political rights, this has rarely translated into recognition on the ground. Designated the Ta'ifiya Al-Israiliya – the Israelite community – the community comprised at least 5,000 members in 1936.
The head of the Jewish community in Lebanon, Isaac Arazi, told Asharq Al-Awsat: "We are experiencing a problem regarding our name because of its sensitivity to a large number of Lebanese, and we understand that."
He added, "We tried to work with the former minister, Ziyad Baroud, when he headed the Interior Ministry to change the name to the 'Jewish' community, but were unable to achieve this. This is something we are working on to this day."
But Sonia, a Lebanese Jew in her sixties, differed from Arazi. She told Asharq Al-Awsat that, in her opinion, "there is no Zionist or Jewish; Jews are all one and they cannot evade their identity."
"After the emergence of major hostility between Arabs and Jews, my husband's family deprived me of my children because of my Jewish heritage," Sonia continued. "They fought me using all forms of psychological torture. I left my family, who had chosen to go and live in Israel, in order to stay in Lebanon with my husband and children. But the consequences of the Israeli–Arab conflict show no mercy for my existence as a human being."
Sonia said that she did not care about the isolation imposed on the community, ending her comments unequivocally. "When I die, I want to be buried in a Jewish cemetery with a Jewish rabbi praying over me," she said. "The Torah is my sacred text, and Judaism is my religion. I will never give that up."
According to official statistics published in 2003, there were only 60 official members of the so-called Israeli community in Lebanon. Al-Bawaba and Al-Sharq al-Awsat cite statistics that indicate that this number is closer to 1,500, with most members officially switching to other religions in order to avoid persecution.
One such clandestine member of Lebanon's "Israelite community" is Ibrahim, a Jewish tailor in his seventies, who told Asharq Al-Awsat: "On paper, I am a Muslim. I changed my religion to escape the problems and absurdities that surrounded me. Some Lebanese do not accept our presence among them, and we have become obsessed with living as Jews in public."
Ibrahim laughed when asked about the way of life for a Jew in Lebanon. "Jews in Lebanon experience the same difficult social conditions as the rest of Lebanese society, and share with them a common concern for a country on the brink of the abyss," he said. "Their opportunities for friendship are limited, and they keep their 'Jewishness' a secret. I'm one of them."