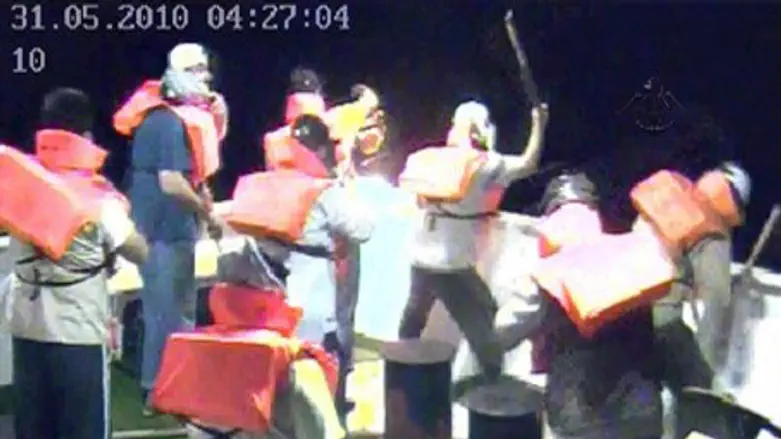 on board Mavi Marmara
Flash 90
One of the people who were wounded on the Mavi Marmara vessel during the 2010 flotilla passed away on Friday, four years after the incident, Turkish media reported.
The man was identified as 51-year-old Ugur Suleyman Soylemez, who was in a coma over the past four years.
The Mavi Marmara, which claimed to international media to be providing "humanitarian aid for the people of Gaza," was the largest ship in the flotilla aimed at breaking Israel's Gaza blockade on May 31, 2010.
The ship defied orders to turn around and dock at the Ashdod port. After it ignored repeated warnings to change course, the IDF boarded the vessel - only to be attacked by Islamist extremists on board.
The soldiers had no choice but to open fire, resulting in the deaths of nine activists on board. Soylemez's death brings the death toll to 10.
After an investigation, Israeli authorities discovered the vessel to be carrying no humanitarian aid - in fact, no aid supplies at all - whatsoever. 
The incident caused a strain in the relations between Turkey and Israel, as Turkey demanded that Israel apologize for the raid and pay compensation to the families of those killed. Israel refused, and Turkey responded by withdrawing its ambassador from Israel and expelling the Israeli ambassador in Ankara.
It was under pressure from U.S. President Barack Obama that Prime Minister Binyamin Netanyahu apologized last March to Erdogan for the deaths of the activists on the Marmara and talks began on the compensation agreement.
The sides have reportedly made progress in the talks, with Turkish Foreign Minister Ahmet Davutoglu having recently said that "problems have been substantially overcome."
News of Soylemez's death comes a day after IHH, the organization behind the flotilla, declared it would oppose an Israeli offer to pay compensation to the victims of the Mavi Marmara incident in exchange for the group dropping lawsuits over the attack.
(Arutz Sheva's North American Desk is keeping you updated until the start of Shabbat in New York. The time posted automatically on all Arutz Sheva articles, however, is Israeli time.)