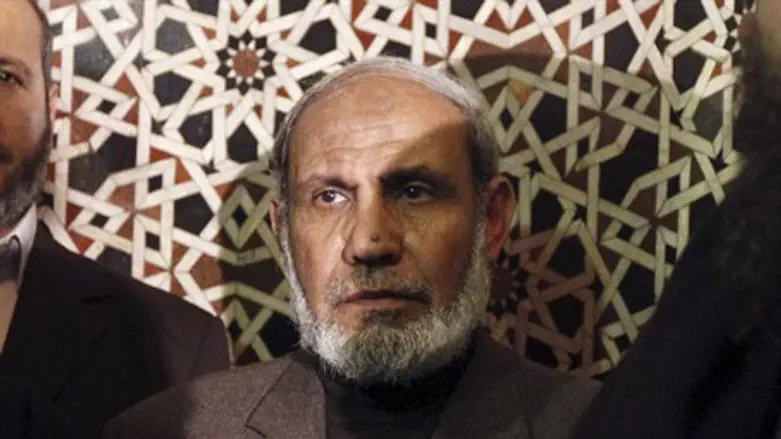 Mahmoud al-Zahar
Reuters
Egypt is working to revoke the citizenship of Hamas leader Mahmoud al-Zahar, a senior official told Al Arabiya on Monday.
According to Major General Hussein Ridi, Assistant Interior Minister for Passports and Citizenship, a proposal to revoke the citizenship of al-Zahar and 11 members of his family has been submitted to the Cabinet for approval.
The reason for the request, he told Al Arabiya, is proof that al-Zahar and his family are members of an organization that has been working "to undermine Egypt's economic and social system."
Al-Zahar is one of 8,000 Palestinian Arabs who were given Egyptian citizenship during the reign of ousted former president, Mohammed Morsi. Hamas is an offshoot of Morsi's Muslim Brotherhood.
Ridi added that security committees have been set up to examine the files of all Palestinian Arabs who have obtained citizenship and the extent of their commitment to the laws and the safety and security of Egypt, stressing that anyone found to have joined a terrorist organization or to be working for a government hostile to Egypt will have his citizenship revoked.
The announcement comes after an Egyptian court decided in March to declare Hamas a terrorist organization and to seize the group's assets and funds in Egypt.
Following that ruling, Egyptian security forces were reportedly planning to take away the citizen status of 13,757 Palestinian Arabs because of their support for Hamas.
Hamas has been the target of a crackdown by Egypt's military-led government, after it enjoyed close relations with the Islamist Morsi's government.
In addition to closing the Rafiah border crossing and essentially imposing a siege on Gaza, Egypt has also sealed most of the smuggling tunnels that are used to transport fuel and goods from Sinai, but also weapons and terrorists.
Egypt has accused Hamas of being responsible for several terror attacks that have hit the country since Morsi's ouster, but Hamas has denied the Egyptian government's allegations.