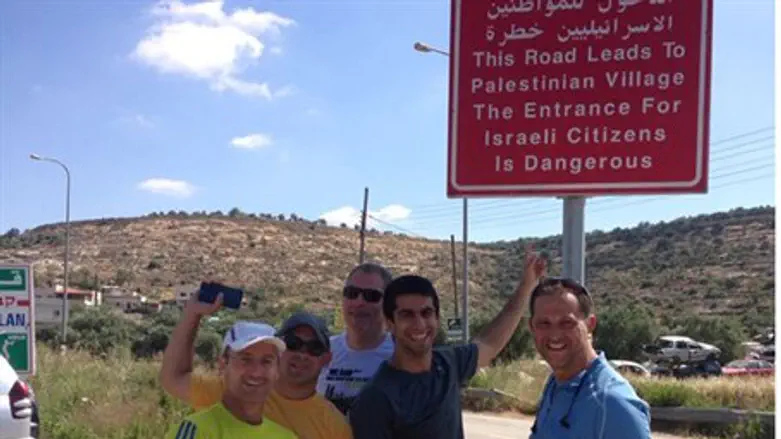 Jewish group poses ironically in front of sig
Regavim
A unique "Peace Run" initiated by an Australian extreme athlete to promote coexistence between Jews and Arabs in Judea and Samaria was dealt a severe blow Sunday, after the Palestinian Authority objected to the presence of Jewish runners.
A group of six Israelis were asked to refrain from participating in Australian ultra marathon runner Pat Farmer's Peace Run, as it passed the Jewish communities of Eli and Shiloh in Samaria, north of Jerusalem. The group - which was organized by the Yesha Council in conjunction with Regavim - had coordinated with Farmer's team ahead of time to ensure that Jews and Palestinians could run together in a true show of coexistence.
However when Ari Briggs, director of Regavim - which advocates for Jewish land rights - arrived along with his group to participate they were asked to stop running after just one kilometer.
Apparently, the news had reached the Palestinian Olympic Committee in Ramallah, which threatened to pull out of the Peace Run if Farmer continued to run with the Jewish well-wishers. Although Farmer was "not happy" about the move, which essentially undermined his campaign, the Jewish group were "politely" asked not to participate.
Briggs, who led the group, decided to abide by Farmer's request but said it was disturbing that whilst Arabs and Jews had been allowed to participate together throughout Israel - including illegal Arab settlers in the southern Negev region - when passing Jewish communities in Judea and Samaria the Palestinian Authority had insisted on a no-Jew policy.
"It's very sad that the Palestinian Authority would sooner attempt to hide the 375,000 Jewish residents of Judea and Samaria, instead of throwing their support behind a genuine attempt to promote peace and coexistence", said Briggs. "True peace is made between people and not by ignoring one and another".
The Jewish group decided to continue their run from Shiloh, site of the first capital of ancient Israel, up to Ariel University, where both Israelis and Palestinians study together in a true show of coexistence.
Elie Pieprz, Director of External affairs at the Yesha Council, "congratulated" Pat Farmer and his team "tor welcoming Jewish residents of Judea and Samaria," but echoed Brigg's sentiment that Jewish residents of Judea and Samaria could not simply be ignored if real peace were to be achieved.
"The Jewish communities of Judea and Samaria are an integral part of the reality on the ground. Therefore any talk of peace needs to include them, either at the negotiation table or in any other initiative to promote peace," said Pieprz, whose Yesha Council represents Jewish communities in the region.
"It is a great shame that the Palestinian Authority would prefer to bury their head in the sand than accept this reality."
Farmer's 20-day run took him through Lebanon, Jordan and Israel - including Judea and Samaria - and will end in Jerusalem.
He famously ran from the North Pole to the South pole in 2012, and says his aim in this initiative is "To inspire and strengthen the resolve of Jewish and Arab people who want peace by showing one man's effort to overcome obstacles.
Running from Shiloh to Ariel
Regavim
Who's undermining coexistence?
Regavim