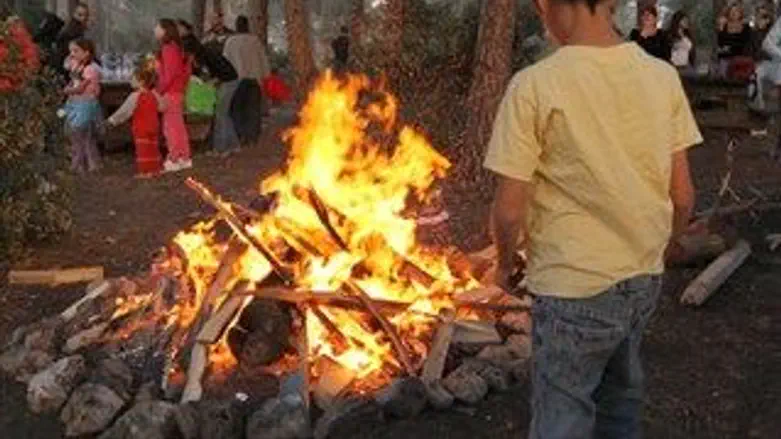 Lag B'Omer bonfire
Israel news photo: Flash 90
With kids having Monday off for Lag Ba'omer, most of the "local" bonfires in communities around Israel are set to take place Sunday night – and Uri Weil of the "Ohr Torah Stone" organization has a suggestion: In order to increase positive relations among groups, and to lessen air pollution, groups of adults and kids in communities should join together in a single, big bonfire, instead of conducting small, individual ones.
Ohr Torah Stone conducts community activities in the north Tel Aviv area, and Weil says that local residents, many of whom are elderly, have a hard time on Lag Ba'omer, as many of them have respiratory problems and have trouble breathing because of all the smoke in the air. For their sake, Weil said, it would be worth having "united" bonfires.
But beyond that, he said, joining together "will enable people to discover and get to know each other, perhaps for the first time for many. Parents and children will sit together and enjoy a memorable experience of being part of a huge bonfire, a memory that will stay with both for a long time."
Weil said that he was not the first to think of this; students at a Tel Aviv school have for several weeks been campaigning for "alternative bonfires" that would be kinder to the environment. "It is wonderful to see creative and intelligent children working together to build a new experience that will be beneficial to both themselves, their parents, and the environment," Weil said.