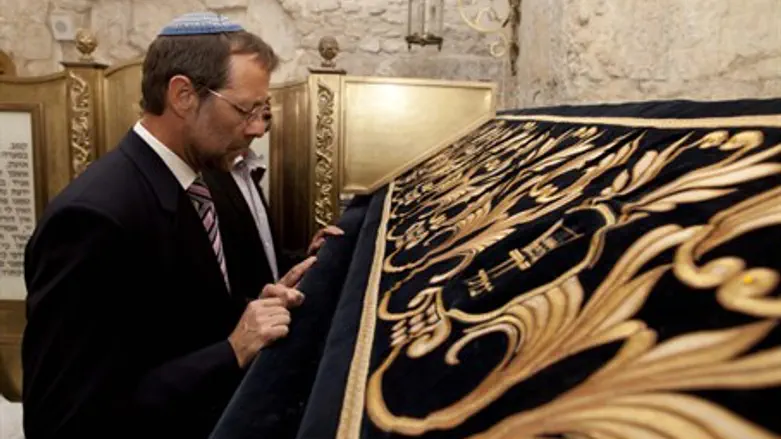 Moshe Feiglin at King David's Tomb
Flash 90
Deputy Knesset Chairman Moshe Feiglin argued Friday morning that the political right has once again proven that when it's in power, it doesn't really know how to rule.
In an exclusive Arutz Sheva interview, Feiglin said "all of the right is in a constant lost battle against the great goal that the left has set, which (late Oslo architect) Ron Pundak defined as turning the state of Israel into a state of all its citizens; the right is just busy with damage control."
The right occupies itself with politicking instead of dealing with the fundamental matters, argued Feiglin, saying that matters of national identity such as control of the Temple Mount, the holiest site in Judaism, have taken a back seat to localized issues of building.
"I get requests all the time to fix blue line permits," said Feiglin, referring to municipal lines demarcating the scope of building. "They constantly run for the sectorial or lobbying solution, and I don't intend to fix the blue line, I didn't come to convince anyone."
"I demanded from within the Likud to fire the defense minister and the internal security minister because of incidents on the Temple Mount. We must replace lobbying with real essence," argued the MK.
Feiglin added that without a believing and devoted leadership, the right will never rule.
"Why did it happen again? Because there's no essential alternative. We're in power, the knitted kippah party [a reference to Jewish Home - ed.] is the third largest, so there are no excuses for the right," stated Feiglin. "The answer isn't in the right or the public, the essential answer is that we need faithful leadership in the state of Israel."
In Toronto for Israeli Independence Day last Tuesday, Feiglin outlined his own five-step plan to impose "Jewish sovereignty" on all of Israel, and have the Jewish identity of Israel triumph over its "Israeliness."
The right has "disappeared"
The MK similarly criticized the right for having "disappeared" last December, after no MKs from Jewish Home or Likud-Beytenu other than himself attended a vote on a bill that would have made it harder to withdraw from Jerusalem. The bill consequently was defeated.
Later in the month he criticized Likud-Beytenu and Jewish Home, after he was the only right-wing MK to vote against a controversial bill giving gay couples equal tax breaks. The bill was voted for by Likud-Beytenu, and Jewish Home Chairman Naftali Bennett. The remaining 11 Jewish Home MKs left the hall to abstain.
While Jewish Home initially opposed the bill, eventually a compromise was reached whereby same-sex couples would receive equal tax breaks but not through official recognition in the legislation, sparing Jewish Home from being perceived as officially condoning same-sex marriage.