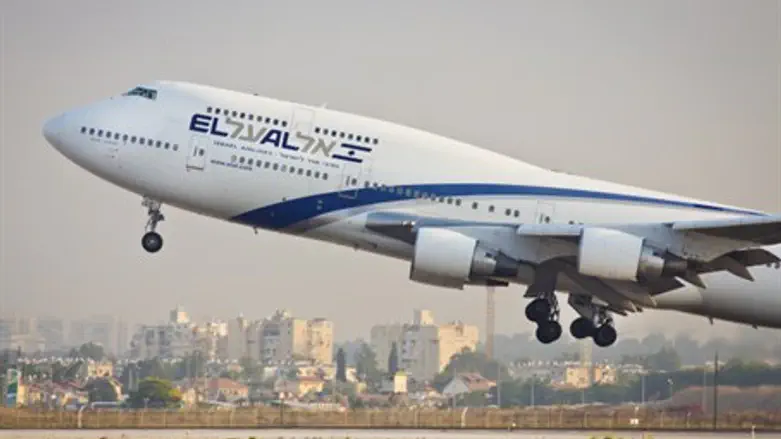 El Al flight (illustration)
Flash 90
El Al flight 289 from Tel Aviv to Venice, Italy, experienced high drama on Thursday as the pilot suddenly fell sick. The plane managed to land safely in Dubrovnik, Croatia.
The stricken first-captain pilot received medical treatment on the plane by a doctor who was among the passengers on board.
"El Al flight 289 from Tel Aviv to Venice, with 98 passengers on board, landed in Dubrovnik after the first captain fell ill during the flight and was unable to fulfill his duties," the airline said in a statement.
David Maimon, CEO of El Al, ordered that a private plane be sent with a replacement crew to fly the passengers to their destination of Venice.
Speaking with the captain of the flight, Maimon expressed his appreciation for his professionalism in bringing the plane down safely without a first-captain. The CEO similarly spoke with the first-captain to ascertain how he was feeling, and ordered that he be brought back to Israel on the private plane being dispatched.
"Maimon noted his praise for the management of the flight captain, the flight service management and the plane's crew, who remained cool and professional, helping treat the first-captain and landing the plane successfully," El Al said in a statement.
A similar near miss occurred in late April after El Al pilots forgot to drop their landing gear before landing at London's Heathrow airport. About 800 feet above the landing strip, landing gear alarms began sounding in the cockpit - alerting the pilots to their mistake. They quickly performed a go-around to drop the landing gear.
Last Thursday, several of the company's pilots staged a surprise job walk-off, stranding hundreds of passengers at the Ben Gurion Airport and causing several flights to be cancelled.
That strike was brought to an end on Sunday with the help of the Histadrut Labor Federation.