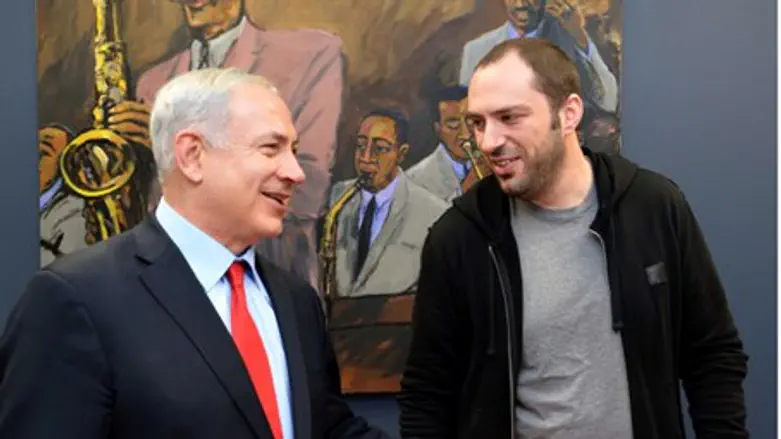 Binyamin Netanyahu with WhatsApp founder Jan
Flash 90
Iran announced Wednesday that it was planning to loosen restrictions on Internet use, and that it was OK to use Whatsapp, which had been reportedly been banned in the country because of its "Zionist" provenance. Meanwhile, an Iranian opposition group said that the government had now banned another "Zionist" communication app – Viber.
According to Iranian Communications Minister Mahmoud Vaezi, the government will implement what he called a "smart filtering" system to ensure that Iranian web users do not reach "immoral" sites. "We have signed agreements with three universities and research institutes to develop smart filtering to block only depraved and immoral sites, but allowing access to other pages," he said, without specifying the organizations.
He also said that the government was not planning to monitor use of the popular Whatsapp chat app.  "What is being said about this matter is mainly nonsense, propaganda," he said. Last week, reports said that Iran had banned access to Whatsapp because it was owned by a Jewish "American Zionist. "The reason for this is the assumption of WhatsApp by the Facebook founder Mark Zuckerberg, who is an American Zionist," Abdolsamad Khorramabadi, head of the country's Committee on Internet Crimes, was quoted as saying by Fox News. However, the ban was reportedly cancelled by Iranian President Hassan Rouhani.
Meanwhile, an Iranian opposition group said that the government had begun this week blocking the use of Viber, a voice over IP app that was recently bought by a Japanese conglomerate. The app was created by an Israeli team.
According to the National Council of Resistance of Iran, "users of the messaging service are not able to communicate using Viber application and even have difficulty in sending or receiving text messages. Since January has been talks of possible blocking of Viber and a number of other messaging services in Iran."
No reason was given for the new ban. The group cited a 2013 study found that almost half of the world's top 500 most-visited websites - including those related to health, science, sports, news, and even shopping - are blocked in Iran. The regime is also one of three countries in the world to block Twitter, Facebook and YouTube.