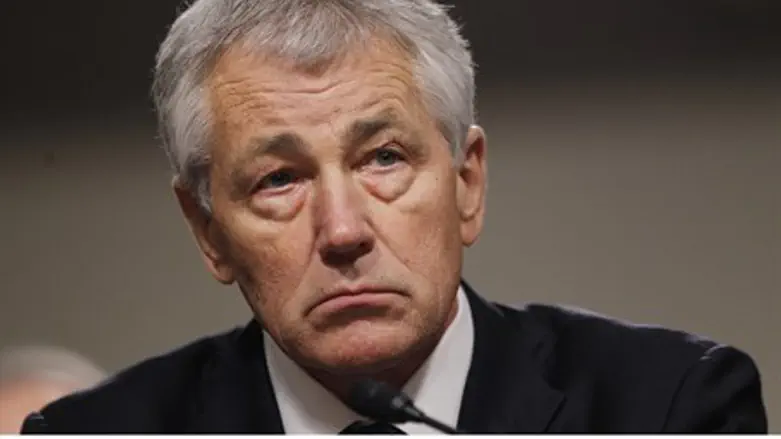 Chuck Hagel
Reuters
U.S. ground and air forces held joint exercises with their Jordanian counterparts on Wednesday as the conflict in neighboring Syria showed no let-up.
According to the AFP news agency, among those taking part in this year's war games are more than 1,000 soldiers and marines that Washington kept stationed in Jordan after last year's "Eager Lion" maneuvers.
The exercises centered on the sprawling Muwaffaq Salti air base in the eastern desert, which has long been seen as the mostly likely launch pad for any American intervention in Syria, like that which Washington briefly threatened late last year.
"The Royal Jordanian and U.S. Air Forces carried out live fire exercises with  F-16 and F-18 fighters, and practiced aerial maneuvers," Jordan's official Petra news agency reported.
In another part of the air component of the exercise dubbed "Falcon Air Meet", "Jordanian special forces and U.S. marines deployed onto a building from a Black Hawk helicopter backed by Cobras," it added.
The maneuvers, which are to last for several weeks and involve thousands of personnel from a total of 24 countries, came as Defense Secretary Chuck Hagel made a lightning visit to Jordan Wednesday for talks on the Syrian conflict.
Hopes for a resumption of peace talks have dimmed ahead of a controversial June 3 election which is expected to return President Bashar Al-Assad to office and which the opposition and much of the international community have dismissed as a "farce."
The Pentagon chief held talks with Jordan's Crown Prince Faisal and armed forces chief General Mashal al-Zaben, before flying on to Tel Aviv, a Jordanian official said.
"This visit will highlight the U.S. commitment to the defense of Jordan, where more than 1,000 U.S. personnel are on the ground working closely with Jordanian defense authorities," Pentagon press secretary Rear Admiral John Kirby said last week.
The Pentagon announced last week that while in Israel, Hagel will meet President Shimon Peres, Prime Minister Binyamin Netanyahu and Defense Minister Moshe Ya'alon.
Hagel's visit takes place a week after President Barack Obama's national security adviser, Susan Rice, visited Israel.
Rice assured Israel at high-level bilateral talks on Thursday that Washington remained determined to stop Iran developing nuclear arms.