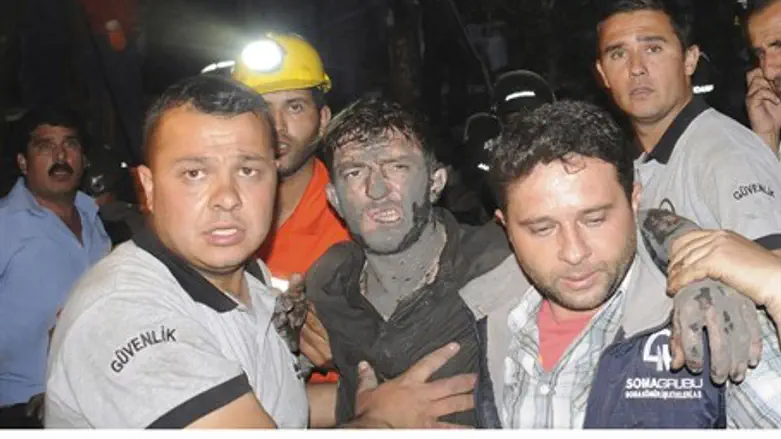 An injured minder is carried to an ambulance,
Reuters
A huge explosion and fire rocked a mine near Soma, Turkey on Wednesday, killing 245 people. Another 120 people are feared trapped - or dead.
The crisis began after a fire broke out, shutting down ventilation shafts and elevators shortly after 3 pm local time Tuesday. After an all-night rescue operation, over 450 people have been saved, according to GMA news - but hundreds had still been killed or remain trapped underground. 
"We as a nation of 77 million are experiencing a very great pain," Prime Minister Recep Tayyip Erdogan told a news conference after visiting the site. But he appeared to turn defensive when asked whether sufficient precautions had been in place at the mine. Soma, near Manisa, is about 300 miles south of Istanbul. 
"Explosions like this in these mines happen all the time," he insisted. "It's not like these don't happen elsewhere in the world."
Anger at Erdogan has bubbled over Wednesday, as protesters vent their frustration at what they say is an ongoing history of negligence and poor working conditions in Turkey. 
"This was not an accident, it happened because not enough is ever done to protect workers," said Ercan Akkaya, a union organizer and a researcher in political science at Istanbul's Bogazici University told NBC News. "The government is complicit in these deaths, in our tragedy. Since 2006, almost 11,000 workers in Turkey have died while doing their jobs."
Thousands of people are rumored to be taking part in protests across Turkey over the incident. One protest involved subway passengers 'playing dead' en masse. Another, a mass march, is planned for Taksim Square. 
In Ankara, a student protest turned violent Wednesday evening after 800 people marched to the energy ministry in the wake of the explosion, according to the International Business Times. Police descended on the protesters, lobbing tear gas canisters and firing water cannons.
Israel offers help
Israeli President Shimon Peres sent a letter of condolences to Prime Minister Erdogan over the incident.
"I wish to extend my deepest condolences, and those of the people of Israel, to your country on the tragic accident in Manisa," he said. "We are all shocked at the loss of life of innocent people at work and our thoughts are with the people of Turkey."
Peres pledged to help Turkey recover from the crisis. 

"At times of tragedy, we must all do what we can to help one another and we have offered Turkey whatever assistance you require at this time," Peres continued.  "From the Holy Land the people of Israel pray for the victims, their families, for the rescue of those still trapped and the full recovery of the injured. Please accept my heartfelt sympathy and those of the people of Israel."
Israel has also offered to send in Magen David Adom (MDA) teams to Turkey to help rescue any remaining miners.
"Immediately after the catastrophe in Turkey, we sent our offer of help to the Turkish Red Crescent, and Magen David Adom teams are ready to deploy as soon as they receive the authorisation," the head of Israel's equivalent of the Red Cross, Eli Bin, said in a statement.