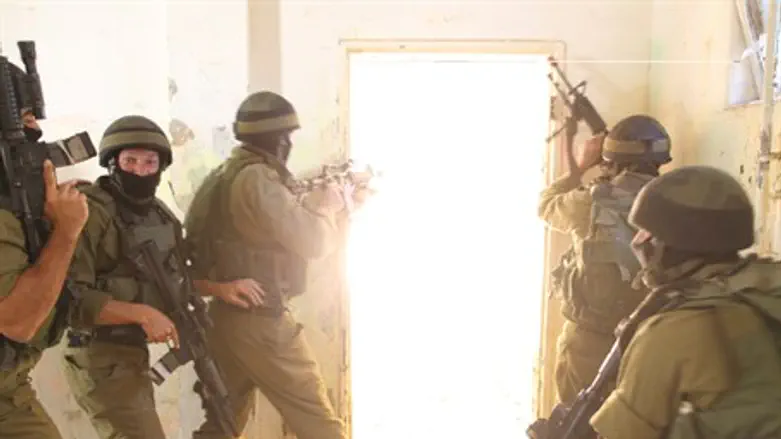 IDF counter-terror unit (file)
Flash 90
A terror attack was narrowly averted in the early hours of Tuesday morning, news site 0404 reports, after a terrorist lobbed an improvised bomb at IDF soldiers near Jenin. No injuries were reported. 
IDF forces conducted a raid in the Jenin area overnight, arresting 11 terrorists. Security forces also confiscated improvised weapons at the scene; an investigation has been launched over the arrests. 
Jenin is a hotbed of terrorism.
Last month, IDF soldiers found two pipe bombs during an arrest in Jenin. The bombs were detonated in a controlled environment and no injuries were reported. 
In March, IDF forces raided the Palestinian Arab settlement, killing two senior terrorists and one other. Soldiers killed Hamza Abu Alheja, a 20-year-old terrorist of Hamas's Ezzedine al-Qassam Brigades, after he refused arrest and opened fire on IDF forces. The IDF released rare footage from the helmet of a member of the SWAT operation.
As the raid progressed, local Arab residents began rioting and attacking IDF soldiers, leading to the death of an Islamic Jihad terrorist and a local Arab resident amid the clashes.