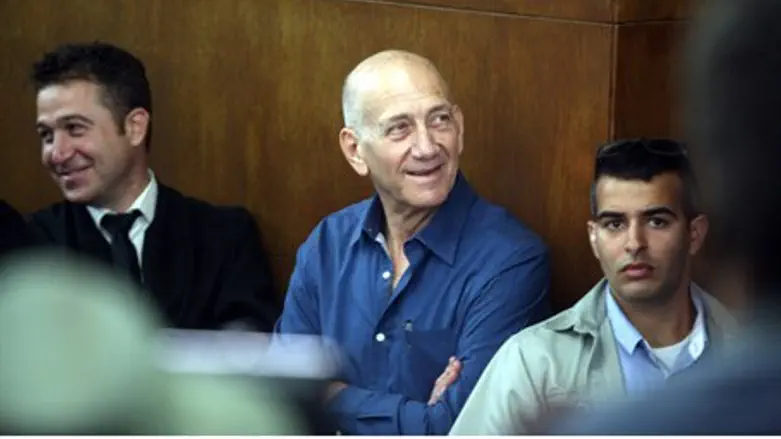 Olmert in court
Flash 90
Former Prime Minister Ehud Olmert, who was convicted on March 31 on two counts of receiving bribes in connection with the Holyland affair, will find out his sentence on Tuesday morning.
Judge David Rosen of the Tel Aviv District Court will announce the sentence for Olmert and several other defendants in the case. The sentencing for two of the convicted defendants, including former Jerusalem mayor Uri Lupoliansky, has been postponed to June due to health reasons.
It is highly unlikely that Rosen will not sentence Olmert to a prison service given the severity of the offences of which he was convicted.
Israel's state prosecution told the court several weeks ago it was seeking a jail term of five to seven years for Olmert. The former prime minister's attorney, Eli Zohar, has asked the court to sentence Olmert to just 18 months in prison.
Olmert, for his part, has insisted that he never took a bribe, telling Judge Rosen at the sentencing hearing that the verdict "was based on a fundamental error."
"I never asked for and never received a bribe, indirectly and directly, not for myself, not for my associates and not for my family. The only way I can appeal the court's verdict, which I know with all my heart is the wrong one, is to appeal to the Supreme Court," Olmert said at the sentencing.
In any case, Olmert's lawyers will likely ask for a stay of execution of the sentence, so that they can appeal the verdict.
Meanwhile, another investigation has been launched against Olmert, thanks to his former bureau chief Shula Zaken who provided police with alleged evidence that Olmert obstructed justice.
Olmert has been questioned in this new case, along with his former lawyer Navot Tel Tzur, but that investigation is separate from the Holyland trial.