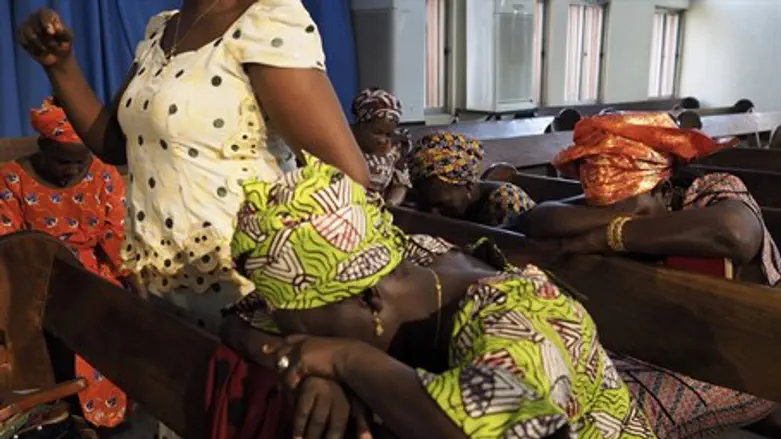 Nigerian Christians pray for schoolgirls' rel
Reuters
Fifty of the more than 200 Christian schoolgirls kidnapped in Nigeria by Al Qaeda-linked terrorist group Boko Haram have reportedly been sighted in central Africa, far from where they were abducted in western Africa. 
The Nigerian Daily Punch on Sunday translated and published reports by the French news source Jeune Afrique, which on Friday revealed villagers had seen 50 young women led by armed men in Birao, a small town in the north of the Central African Republic (CAR).
"The Nigerian schoolgirls abducted by Boko Haram have passed through the northern CAR, escorted by armed men. Based on several testimonies of inhabitants, the women arrived Wednesday, April 30 aboard trucks," states the report.
Regarding the identity of the men, the report detailed "they were guarded by heavily armed men, who spoke English, and also members of the former (CAR) rebel Seleka."
Seleka is an alliance of Islamic militia factions that overthrew the CAR government last year, and has been part of ongoing clashes between Muslims and Christians in the African country.
The girls "were frightened, cried and were violently rebuked in English. The girls and their guardians were then housed for several days in a house. The group reportedly left the scene on the night of Sunday to Monday, May 4 to 5, without a trace," the report concluded.
The schoolgirls were kidnapped from their dormitory on April 14 by the terror group, whose name "Boko Haram" roughly translates as "Western education is forbidden" in the Hausa language prominent in Nigeria's Muslim-majority north. The name reflects the group's antagonism towards any non-Muslim or Western influence in the country, including within its education system.
In a recently released video, Abubakar Shekau, the leader of the Boko Haram terrorist group, can be seen bragging "I abducted your girls. I will sell them in the Market by Allah!"
Neighboring nations insist they are not involved
Reports of the girls' transfer come as Cameroon's Minister of Communication, Issa Tchiroma Bakari, rejected accusations that his country was not helping Nigeria search for the girls.
"We insist that allegations from Nigeria that a part of the 200 young female students recently kidnapped in the North-East of Nigeria would have been transferred to Cameroon to be forced into marriage to members of the Boko Haram sect are fully unfounded," Bakari stated.
"Cameroon will never ever serve as a support base for destabilization activities towards other countries," added Bakari.
Several Western nations have pledged their aid in recovering the kidnapped girls, with US and British soldiers arriving in Nigeria last Thursday.
Israel has been involved from the start
Prime Minister Binyamin Netanyahu similarly offered on Sunday to lend Israel's help to Nigeria in a phone call with Nigerian President Goodluck Jonathan, saying "we are prepared to help in locating the girls and to fight the cruel terror which has struck you."
However, a Nigerian security source on Friday said that meetings between Israel and Nigeria have been ongoing since the abduction in mid-April.
"The issue of collaboration with Israeli and other countries did not start now, a lot of meetings have been held on insurgency," remarked the source on condition of anonymity.
On Sunday, Jonathan officially accepted Netanyahu's offer, saying "Nigeria would be pleased to have Israel's globally acknowledged anti-terrorism expertise deployed to support its ongoing operations."