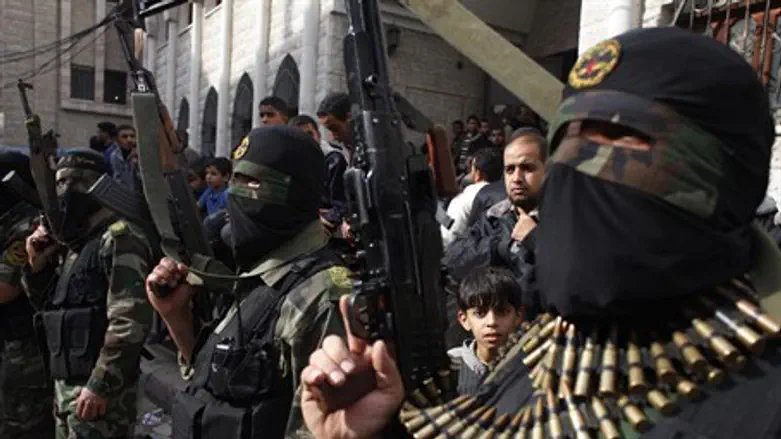 Islamic Jihad terrorists in Gaza
Reuters
The Islamic Jihad terrorist group recently held a military maneuver in which it presented anti-tank and anti-aircraft weapons.
Footage of the maneuver aired on Mayadeen TV and was broadcast on May 7. During the maneuver, the group said it was preparing "for what is to come" and stated that members of its "military wing", the Al-Quds Brigades, "are training and preparing for confrontation with the Israeli occupation."
The report was translated by the Middle East Media Research Institute (MEMRI).
The Islamic Jihad was responsible for firing a barrage of rockets at southern Israel in March and also threatened to fire long-range missiles at Israel, but it later toned down its rhetoric and claimed it was not interested in an escalation.
The Iranian-backed terrorist group has also released a Hebrew-language video warning the Israeli government against attacking and calling on Israelis to "get out of our country" - referring to all of Israel, which Islamic Jihad, like Gaza's Hamas rulers, seeks to destroy.
Most recently the group said it was in discussions on joining the Hamas-Fatah unity government that will be set up as a result of the reconciliation pact signed between the sides.
That announcement came despite the Islamic Jihad having predicted that the deal would fail just hours after it was reached.