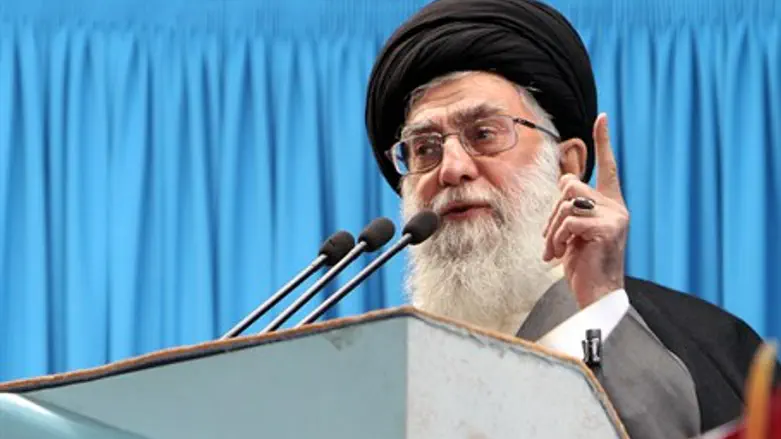 Iranian Supreme Leader Ayatollah Ali Khamenei
Reuters
Iran's Supreme Leader, Ayatollah Ali Khamenei, on Sunday visited an exhibition showcasing the latest achievements of the Revolutionary Guards air force.
According to the Fars news agency, Khamenei received a two hour tour of the exhibition and was presented with state-of-the-art equipment and hardware.
The report claimed that among the items in the exhibition was the advanced radar-evading U.S. RQ-170 drone, which Iran claimed it downed more than two years ago. The news agency said that it Iranian experts had developed a model of the drone through reverse engineering.
Ayatollah Khamenei was also shown the Revolutionary Guards' surface-to-surface missiles, including the Zalzal, Persian Gulf, Hormuz 1, Hormuz 2, Fajr 5, Ra'ad 301 and solid-fuel, long-range Sejjil.
Other achievements presented at the exhibition included the Tabas air defense system, a command-and-control center, different Ra'ad 1 and Ra'ad 2 air defense systems, different radars and electronic warfare.
Khamenei reportedly praised the Aerospace Force commanders and personnel for their achievements, and said, "This exhibition gives the message of power and inner capability to our officials announcing that 'we can.'"
Iran in recent years has boasted of capturing U.S. drones it says have penetrated its airspace, vowing to reverse engineer them to make its own.
The Islamic Republic consistently flexes its muscles in an attempt to show its military strengths, though it is hard to determine whether these claims are true or exaggerated. In February,  the regime held a special display of the nation's domestic military industry advances in the last decade, bragging that it has the "biggest army in the region."
The pinnacle of Iranian warfare was presented in the Shihab 1, 2 and 3 missiles, which feature a range of up to 2,000 kilometers (1,243 miles), enabling them to strike Israel. The missiles are fired from subterranean launchers, making them difficult to detect by satellite.
According to the Iranian army, the Shihab missiles can be fired rapidly in response to an attack.
n December, Iran bragged of its new Qader cruise missile sporting a 200 kilometer (124 mile) range, as well as a new radar system for electronic warfare. In November, the Islamic regime released a new Fotros drone boasting a range of 2,000 kilometers (1,243 miles), making it able.
Just last week, the commander of the Iranian Navy stated that his forces were trained to destroy U.S. warships.
The commander, Rear Admiral Ali Fadavi, threatened the Navy can sink an American aircraft carrier "in less than a minute."