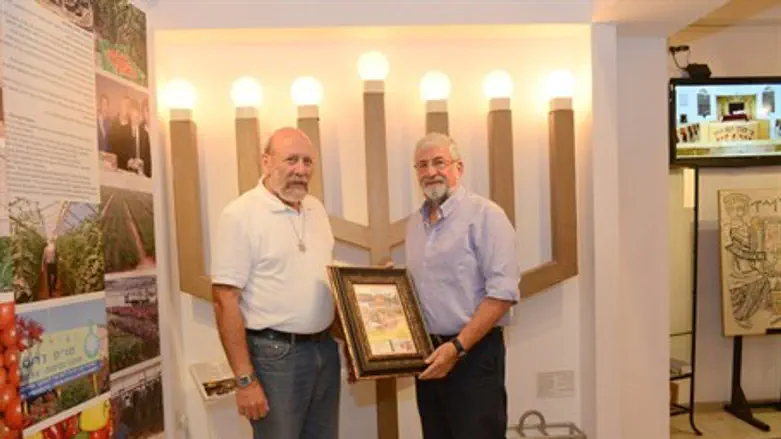 Amram Mitzna (right) with the head of the Gus
Meir Elifor
A long-time leftist – a former head of the Labor Party and a member of Tzippy Livni's Hatnu'a Party – MK Amram Mitzna visited the Gush Katif Museum in Jerusalem Sunday, saying that the Israeli people could learn from the former residents of the area.
Opened in 2011 - six years after the expulsion from Gush Katif as part of the disengagement plan – the Museum undertook to chronicle the history of Gush Katif and Jewish settlement in Gaza, both in its modern form, and from ancient times as well.
The museum shows a variety of art projects by residents of Gush Katif as well as others who did not live there but saw the pictures of the expulsion. All of them saw art as a way to share and express that which weighs heavily on the heart.
The museum also includes an orange room and a black room. Orange was the color of the struggle against the expulsion and as such is the color that is seen on posters, flyers and photos that are on display in the orange room. The black room shows the end result - the expulsion. Museum guests who enter this room usually stand or sit in silence, watching and weeping.
Mitzna visited the entire museum, and was moved to sharply criticize the way the government handled the removal of residents from their home and the difficulties they had in getting compensation for their homes and businesses. To this day, some of the former residents are still living in temporary housing, waiting to move into a permanent home.
Commenting on the visit, Mitzna stressed the importance of discussing Gush Katif with students, and the educational value of the museum.
In the visitor's book, Mitzna wrote that the Museum was "very moving. There is a great deal to learn from this part of our history. It was only love of the land that gave residents the strength to settle in this difficult area.
"I visited Gush Katif many times and I was always amazed by the achievements of the residents there," he wrote. "I congratulate the Musuem for preserving this."
On the conclusion of his visit, Mitzna lit a memorial candle in memory of Gush Katif residents who were killed defending the country.