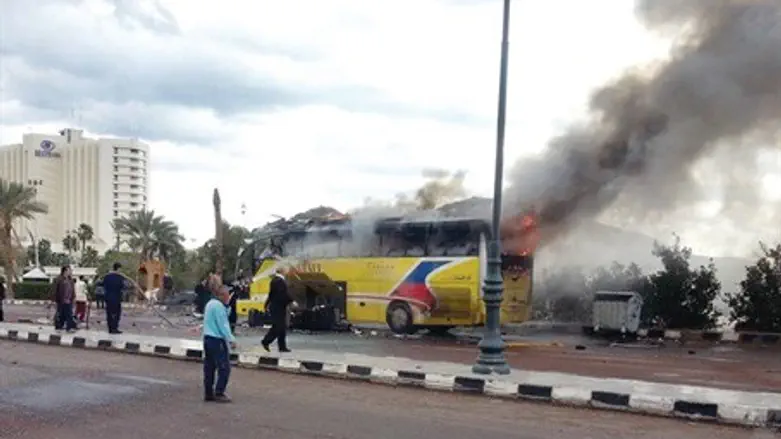 Bus explosion claimed by Ansar Bayt Al-Maqdis
Reuters
Egypt's chief prosecutor on Saturday charged 200 suspected terrorists with carrying out over 50 terrorist attacks, killing 40 policemen and 15 civilians and conspiring with Hamas, The Associated Press (AP) reports.
It is the first mass trial of a Jihadi group since the country's recent turmoil, noted the news agency.
The defendants, 98 of whom remain on the run, are all suspected members of the Al-Qaeda-inspired Ansar Bayt Al-Maqdis, which has claimed responsibility for the bloodiest attacks since a wave of violence picked up following the military overthrow of Islamist President Mohammed Morsi last summer.
The prosecutor's statement refers to the group as "the most dangerous terrorist group," and accuses the defendants of receiving military training in Gaza under the patronage of Hamas.
The statement also says the terrorists travelled to Syria where they took part in fighting against government forces before returning to Egypt.
Washington designated the group as a terrorist organization in April, accusing it of carrying out attacks in Israel, against security forces and tourists in Egypt.
Among the attacks claimed by the group is the assassination of a top Egyptian police general, who was gunned down as he left his home in a west Cairo neighborhood, and a bus bombing on a tour bus filled with South Korean tourists in the Sinai. 
Several months ago, Ansar Bayt al-Maqdis denounced the Egyptian army as "an enemy of Allah" because of its crackdown on Sinai terrorists and called for "jihad" against it.
Egypt's interim government says there is a direct link between the Muslim Brotherhood and Ansar Bayt al-Maqdis, and on this basis blacklisted the Brotherhood as a terror organization.
In the Saturday referral, according to AP, prosecutors charged the defendants with founding and leading a terrorist group, attacking state institutions, conspiring with Hamas, premeditated murder and possession of weapons. A date for the trial will be set later.
The statement also said the prosecutor's investigation revealed that Morsi had negotiated with the group while in office to ensure it abstained from violence during his rule in exchange for a presidential pardon to their colleagues in prison.
The prosecutor's statement said the group had operated in eight clusters, which oversaw eight different cells handling recruitment, explosives making, arms smuggling from Libya, Sudan and Gaza, documenting attacks, monitoring targets and implementation and planning of attacks.