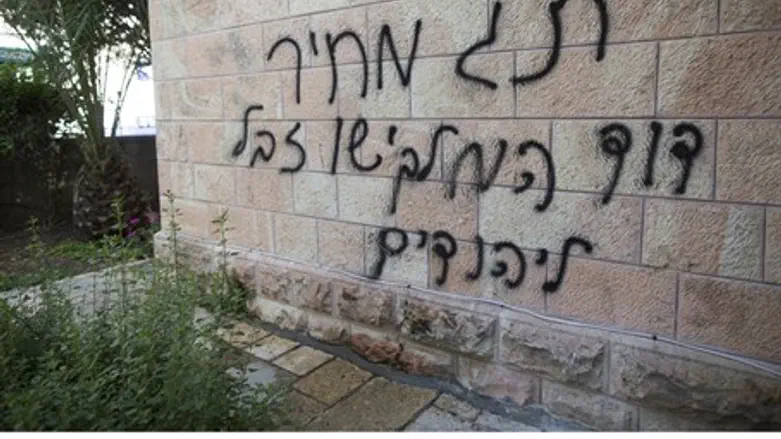 Price tag graffiti; "King David for the Jews"
Flash 90
Vandals sprayed anti-Christian graffiti on a Jerusalem church on Friday, despite Israeli police stepping up security around religious sites ahead of a visit by Pope Francis later this month, according to AFP.
"Price tag... King David for the Jews... Jesus is garbage" was spray-painted in Hebrew on the wall of St George's, a Romanian Orthodox church near a hareidi neighborhood. The graffiti surfaces in light of renewed tensions over a possible deal to transfer King David's Tomb on Mount Zion to the Vatican.
"Price tag" is a euphemism for politically-motivated vandalism and criminal damage usually attributed to Jewish extremists, carried out either in revenge for Arab terrorist attacks, or in protest of Israeli government policies such as the destruction of Jewish homes in Judea and Samaria.
Police said that "Death to Arabs" was found written on a house in the Old City in Jerusalem, and swastikas were scrawled on the wall of another Jerusalem apartment.
The Roman Catholic church has demanded Israeli action after Hebrew graffiti reading "Death to Arabs and Christians and to everyone who hates Israel" was daubed on its Notre Dame complex in Jerusalem on Monday.
Israeli media on Friday reported that police and Shin Bet feared "price taggers" would try to attract media attention by attacking Christian sites ahead of the Pope's visit to the region, scheduled to begin on May 24 in Jordan.
He is then due to spend two days in the Holy Land from May 25.
Police spokesman Micky Rosenfeld highlighted a boosted security presence around sensitive Christian sites.
"We've already stepped up security in different sites, in different areas, and obviously will continue to do so," he said.
Rosenfeld said police did not connect the increase in attacks on Christian sites with the upcoming papal visit.