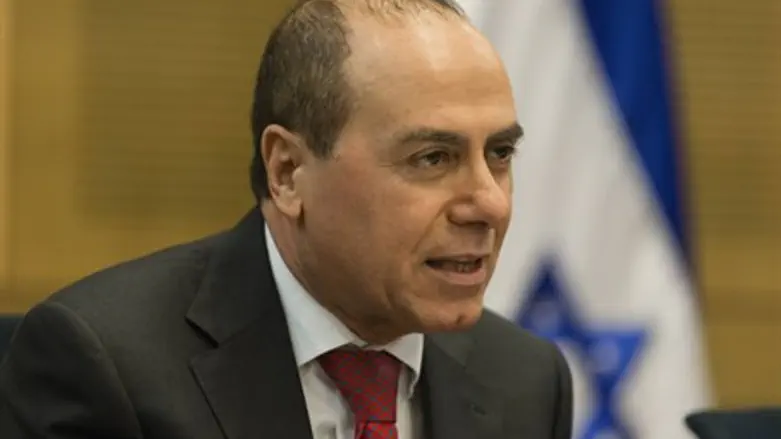 Minister Silvan Shalom
Flash 90
Water and Energy Minister Silvan Shalom will likely not run for President, despite the fact that the case against him will be closed, political officials said on Wednesday.
According to Channel 2 News, officials close to Prime Minister Binyamin Netanyahu said that Netanyahu is unlikely to back any of the presidential candidates, and this will likely lead Shalom to choose not to run.
Earlier Wednesday, Attorney General Yehuda Weinstein said he would be ending the investigation against Shalom, who allegedly behaved improperly with one or more female employees.
The Head of the Police's Department of Investigations informed the Justice Ministry that the police did all it could "to look into the information and to weigh the chances that it would ripen into acceptable evidence." Investigative and intelligence work was put into locating women about whom there were allegations, and those who were located were then approached.
At the end of the day, some of the allegations were denied, some of the women could not be located and others refused to file complaints.
The event described by the woman who spoke about Shalom with police is covered by the statute of limitations and Shalom cannot be put on trial for it. The State Attorney's Office recommended, therefore, that the investigation be halted.
Even before the case against Shalom, analysts predicted that he would have difficulties receiving the support of Netanyahu for his presidential bid, as the two have had tense relations for years.
At the same time, Netanyahu is also not on good terms with another candidate from the Likud, MK Reuven Rivlin, so much so that a recent report indicated that Netanyahu was looking into the possibility of turning the election of the president into a popular vote instead of having the Knesset members elect the president.
The race to succeed 90-year-old Shimon Peres as president when his term ends this summer has been a heated one so far. In addition to Shalom and Rivlin, Labor MK Binyamin Ben-Eliezer has already collected the ten signatures required to be a candidate and has been endorsed by his party.
Like Shalom, Ben-Eliezer was the topic of recent controversy, as an investigative television report revealed that he had frequented "exclusive and discreet" casinos in London and did so up until 2002, when he was serving as a top government minister.
Another report revealed that Ben-Eliezer was scheduled to undergo a kidney transplant. Ben-Eliezer responded to the two leaks earlier this week and told Army Radio that he was being investigated by private detectives who were tasked with digging up dirt about him, but also laughed it off and said his conscience is clear.
Other potential presidential candidates include former Knesset Speaker Dalia Itzik, Nobel Laureate Professor Daniel Shechtman, former Supreme Court Justice Dalia Dorner, and MK Meir Sheetrit (Hatnua).