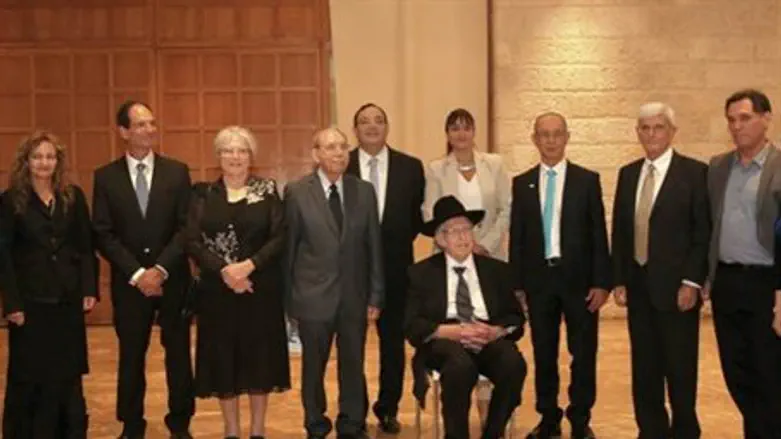 Israel Prize Winners
Sasson Tiram
Winners of the 2014 Israel Prize were awarded Tuesday night in Jerusalem, at the Binyanei HaUma International Convention Center. 
The ceremony was attended by President Shimon Peres, Prime Minister Benjamin Netanyahu, Knesset Speaker Yuli Edelstein, President of the Supreme Court Justice Asher Gronis, Education Minister Rabbi Shai Piron and Jerusalem Mayor Nir Barkat.
The Israel Prize is handed out by the State of Israel and is highly regarded as the highest honor. This year's winners included:
- Professor Shamma Yehuda Friedman - Talmud 
- Professor Mordechai Segev - Physics 
- Professor Yaakov Katan - Agricultural research and Environmental Science
- Professor Irad Malkin - General History
- Rav Aharon Lichtenstein, Rosh Yeshiva of Yeshivat Har Etzion - Biblical Literature
- Professor Marta Weinstock Rosin - Medical Research
- Professor Michal Neeman - Visual Arts
- Professor Haim Levy - Business Management
Israel also awarded two of the prestigious Israel Prize Lifetime Achievement Awards, for special contributions to society and the State of Israel. The winners included Rebbetzin Adina Bar-Shalom, daughter of Rabbi Ovadia Yosef and founder of Hareidi Academic College in Jerusalem, and Avinoam Naor (Aharonovitch), founder of the Or Yarok Association for Safer Driving. 
'Cultural and Moral Breakdown'
Education Minister Rabbi Shai Piron (Yesh Atid) spoke at the ceremony, warning that Israel as a whole needs to be redirected toward cultural and moral values.
"We are experiencing a cultural and moral breakdown," Piron said, "which prefers reality over vision, which creates aggressive dialogue, [and] which encourages humiliation." 
"These positive steps [reflected by the Israel Prize winners here today] call on Israeli society to experience a renewal," Piron continued. "We have established a state of economic stability and security; we have fancy systems in place for education and welfare; the spirit of Israeli thinkers and writers are well-respected in the world of humanities." 
"We have built the tools [for this renewal]," he stressed. "But now is the time for a cultural renewal and a profound moral regeneration, one which will last in the State of Israel, for now and for the future." 
"We need to invest much effort to construct a meaningful society, which draws its strength from Jewish values and prophecy, the spiritual thinking in this country and the better parts of world history," he continued.
Piron stressed that a change is imminent for the future of the Jewish people in Israel. 
"Sometimes we are afraid of a big change," he noted. "Cynicism threatens Zionism, it poisons everything with contempt, questions high and noble truths and questions the goodness, faith, and principles of those who love this country."
The "new dialogue," Piron concluded, includes "faith in the correctness of our path [future]," "faith in mankind," and "responsibility," he said.