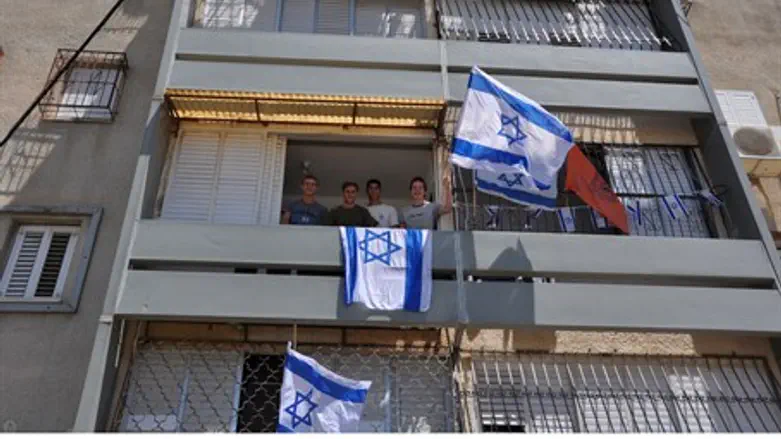 Flags fly in Lod
Lod Military Academy
Students at the pre-military academy of Lod over the weekend met with residents of the Ramat Eshkol neighiborhood in the city, urging them to fly the Israeli flag on Independence Day. It should be noted that the neighborhood is 75% Arab.
The students knocked on doors and met families, suggesting that they fly a flag. At the same time, they checked to see if the family needed any help. "This is true Zionism," said one of the students involved in the project. "Flying the flag outside is secondary to the 'flags' we have planted in the hearts of residents, many of whom are elderly," the student said.
Rabbi Uzi Hovav, who heads the Academy – brother of IDF Capt. Ariel Hovav of Eli, h"yd, who was killed in a terror attack in central Samaria in 2002 - said that "it is amazing to see the sanctification of Heaven's name that these young students are performing. Just two years ago this was a neighborhood devoid of any Jewish symbols. It is now a center of strength for Jews, who now fly their flag proudly here."
The residents have expressed their deep appreciation to the Academy students. "If two years ago we were afraid to walk around at certain hours and in certain places, and we only wanted to escape from here, I am now proud to be a part of this neighborhood, and I call on more young Religious Zionist people to settle here," said one resident.
"This is the most Zionist thing someone can do nowadays."