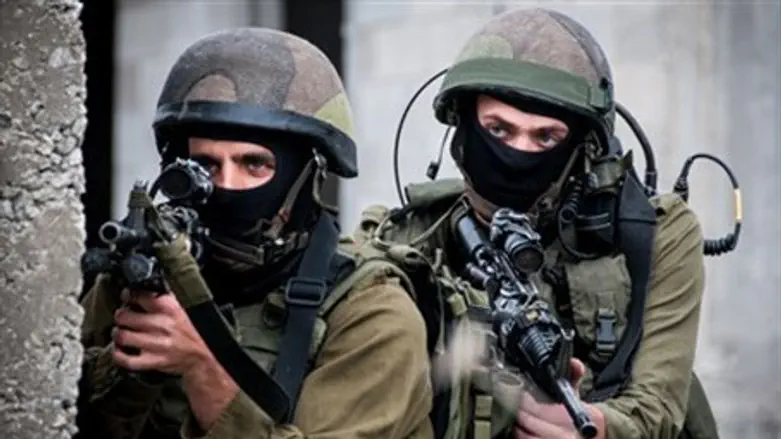 IDF soldiers in action
IDF Spokesperson Unit
An IDF soldier was lightly wounded Friday morning, after an explosive was launched at Nahal Brigade soldiers stationed in Shechem. The soldier has been transferred to hospital for treatment.
The incident occurred during an operation to uncover weapons in Shechem overnight, according to IDF officials. 
A cartel of knives was seized, as well as two guns and hundreds of bullets. During the operation, violent unrest raged in Shechem streets, officials said; locals threw stones at IDF soldiers and tires were set ablaze during the rioting. 
A suspect from Safa village near Ramallah was also arrested, as well as two Shechem-area suspects - one in Taubus and one in Tammun. All three men are under investigation from security forces. 
Shechem is a locus for terrorism in Judea and Samaria.
Last month, the IDF uncovered a major Hamas terror cell in the city that is controlled by the Palestinian Authority (PA); four lawyers were charged with facilitating communication with Hamas terrorists in Israel and abroad.
Another terror cell, responsible for several shooting attacks on the Jit intersection near the Israeli community of Kedummim, was busted by the Shin Bet in January.
Just two days earlier on Wednesday, 3,000 Jews visited Shechem to pray at the tomb of Joseph from the Torah.
The IDF guarded the event, which was attended by a Haifa city council member, the Mayor of Beitar Illit and the head of the Samarian (Shomron) Regional Council, Gershon Mesika.