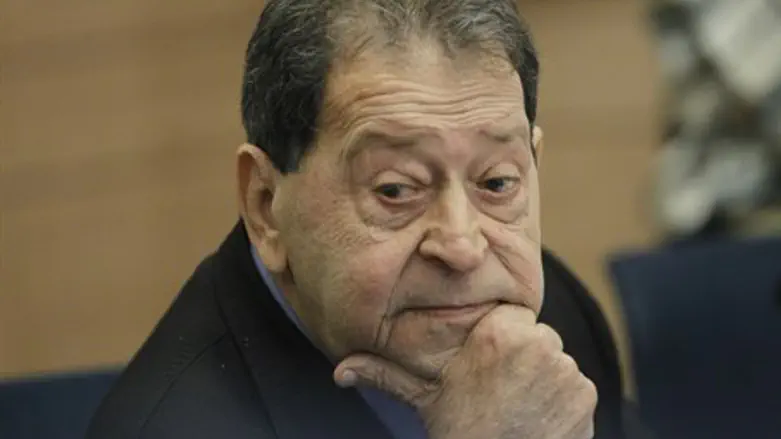 MK Binyamin Ben-Eliezer
Flash 90
Presidential hopeful MK Binyamin Ben-Eliezer (Labor) frequented casinos in London, the "Uvda" program hosted by journalist Ilana Dayan and which airs on Channel 2 revealed on Wednesday.
According to an investigative report conducted by the program's team, Ben-Eliezer would frequent "exclusive and discreet" clubs and did so up until 2002, when he was serving as a top government minister.
The investigative reporting found that Ben-Eliezer had membership cards for five different casinos including exclusive clubs such as 50 St. James, Palm Beach Casino and Crockfords. A membership card for these establishments costs around £1,000.
When initially asked about his visits to the casinos, Ben-Eliezer denied they had ever taken place. When he was later asked about a specific casino, he reportedly admitted that he had visited it once but just to eat dinner.
When confronted with membership cards that were found from the various casinos bearing his name and personal details, Ben-Eliezer he admit to visiting these casinos, but insisted had never engaged in gambling.
Responding to the report, Ben-Eliezer's media advisor told the program, "Ben-Eliezer has a large family in London, and visiting casino restaurants is a legitimate pastime. Entry to such a restaurant requires issuing a membership card. Ben-Eliezer did not engage in gambling when visiting a casino."
The report on Ben-Eliezer is the latest twist in what has been a stormy race for Israel's president.
It follows allegations of sexual harassment against presidential candidate, Minister Silvan Shalom of the Likud party.
The charges began with a woman who claimed to have been harassed 15 years ago by the minister when she worked in his office; Shalom denied knowing the woman. The file was later closed  given that the statute of limitations had expired on the case.
Critics assert that the police decision to try Shalom on a case that obviously was no longer valid given its 15-year-old age was meant to bring forward other complainants. The original complaint was made somewhat suspicious given that it was submitted a week after Shalom began submitting his candidacy for president.
In addition to Ben-Eliezer and Shalom, MK Reuven Rivlin (Likud) has expressed interest in running as well, and is the most popular candidate among the Israeli public, as recent polls suggested.
Another candidate is former Knesset Speaker Dalia Itzik, who has begun to collect signatures from MKs and, according to one report, may be endorsed by Foreign Minister Avigdor Liberman if Shalom withdraws from the race over the allegations against him.
Other candidates in the presidential election include Nobel Laureate Professor Daniel Shechtman, who recently announced his candidacy, as well as former Supreme Court Justice Dalia Dorner, president of the Israeli Press Council.
MK Meir Sheetrit (Hatnua) also threw his hat in the ring recently and has been endorsed by his party.