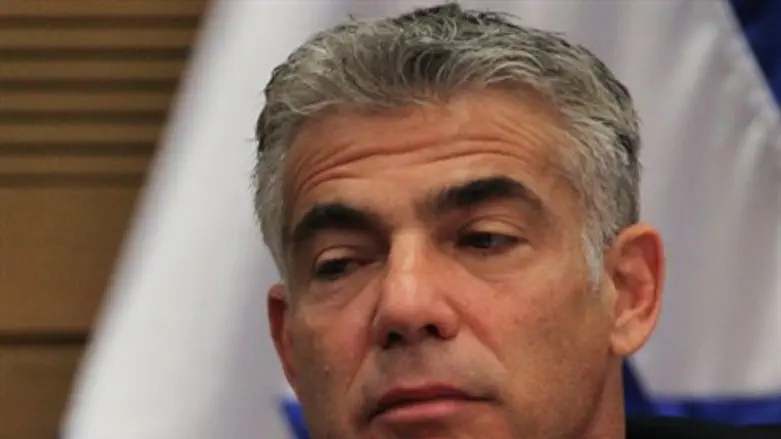 Yair Lapid
Flash 90
The Ministry of Finance froze budget transfers to Judea and Samaria again Tuesday. Roughly 563 million shekels ($162,173,276) earmarked for the Housing Ministry have been cut until further notice. 
Finance Committee chairman MK Nissan Slomiansky (Jewish Home) announced in the wake of the funding freeze that he will not allow the funds to be used for other purposes in light of the last-minute decision.
"I will not make the Finance Committee a circus," Slomiansky fired off Tuesday afternoon. "I arrived here in time, to hold the hearing on the budget as planned, and the Treasury decided at the last second to pull the funding for the Housing Ministry. This is in addition to the Finance Ministry adding unwarranted requests to the budget as well." 
"I do not remember seeing such behavior since I applied to serve as a member of the Finance Committee," he stated. "I do not remember such a disgrace like this." 
Prime Minister Binyamin Netanyahu reportedly instructed Defense Minister Moshe Ya'alon to cancel a planned hearing for building tenders on Tuesday morning.
Meanwhile, far-left group Peace Now claimed that building in Judea and Samaria had quadrupled over the past year and derided Netanyahu for becoming "Prime Minister of the settlers."
Yesha officials denounced the move and denied the validity of the report - noting that if the report were true, there would not be such an immediate need for more construction in Judea and Samaria. 
Yo-yo budgeting 
Building funds for Judea and Samaria have become frequent headline news in Israel over the past several months, as money to the Ministry of Housing is allocated, then withdrawn, over and over again, while politicians fume. 
Peace Now's report Tuesday sparked a comment from Meretz leader Zehava Galon, who called on Lapid to stop transferring funds to Judea and Samaria and "repay residents who live within the Green Line."
Accusations of "lack of transparency" are common in Lapid's decision making and have played a central role in budgetary discussions since as far back as early February. 
Earlier this month, Hatnua MK Elazar Stern also called on the Finance Ministry to freeze funds destined for Judea and Samaria, once again crying "transparency."
"Unfortunately, the Housing Minister supports a lack of transparency [in how government funding is utilized], as reflected by activities of the Settlement Division," Stern accused, blaming "narrow sectorial interests."
"It's hard for me to trust him [Housing Minister Uri Ariel]," Stern continued, "when his motives are doubted - I personally have trouble sending him so much money." 
In March, Labor MK Stav Shafir made false claims that Israel pays extra money to residents in Judea and Samaria - as well as other communities outside of the heavily-populated central coastline area - "under the table." 
Yesha Council officials, who represent Jewish communities in the Judea-Samaria region, have categorically rejected the accusations and Globes published a full and detailed breakdown of funds that leftist MKs said were improperly funnelled to Judea and Samaria.