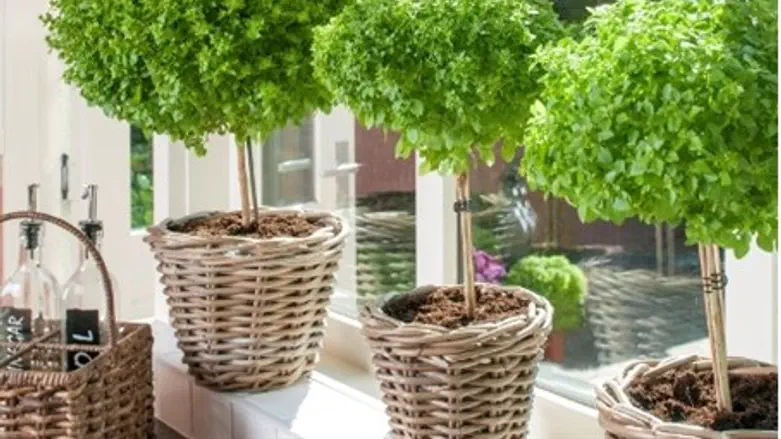 Basil Tree
Hishtil
After winning awards abroad, an Israeli botanical invention called the "Basil Tree" will be available in Israel. The tree was developed by Hishtil, Israel's largest company in the area of decorative agriculture.
The company boasts over three decades of experience, and nearly 1,000 employees in Israel and in offices in Europe and the US. Hishtil has established a global nursery network comprised of five sites in Israel and six joint venture nurseries in Turkey, Italy, South Africa, Bulgaria, France and Bosnia, among other places.
Basil is a root plant, and is usually grown directly in the ground – but in the case of the Basil Tree, it grows on a small bush that can be kept in a flowerpot or even planted in the ground, with its "fruit" of basil leaves produced throughout the year, saving planters the trouble of having to replant basil each time a crop is harvested.
The tree was developed by grafting basil roots into a miniature bonsai plant, Hishtil said.
The tree is a popular item in the US and Europe, where it has been exported for the past year. Several months ago, Hishtil won the prize for best new decorative plant at the IPM Horticulture Show in Essen, Germany, one of the world's largest horticulture shows.
"The Basil Tree's leaves are especially aromatic and tasty, and can be used to enrich any salad, soup, or cooked dish," Hishtil said. "The tree is covered with pretty white flowers in the summer, and the flowers will grow even inside when the tree is exposed to sunlight. The tree will continue growing for several years, producing basil year round."