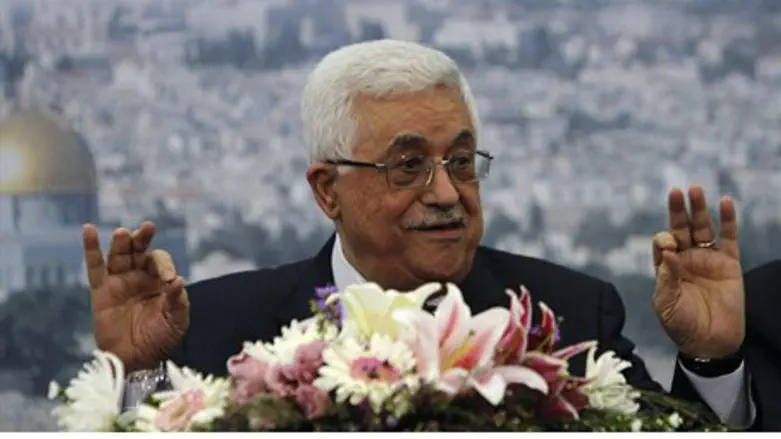 PA Chairman Mahmoud Abbas
Reuters
Palestinian Arab sources continue to deny that Palestinian Authority (PA) Chairman Mahmoud Abbas is considering dismantling the PA, and insist that the news is an Israeli fabrication. 
On Sunday, Abbas told the Egyptian press that dismantling the PA was an option. 
"A new generation arrives and asks us: 'What have you done?' I am now 79 years old, I cannot escape from passing off the flag [of the PA to someone else]," he said, in an interview with Al-Masry Al-Youm.
Blaming "settlements," he added, "the new generation sees the two-state solution is becoming less and less likely, and that there is no escape from the one-state solution."
PA sources confirmed to Yediot Aharonot Sunday that the PLO is seriously discussing the issue, which they claim will make Israel "vulnerable" to international legislation over the issue of Palestinian Arabs and Israeli citizenship. 
The name of the game: denial
But now, several PA officials have denied the reports, and claim that Israel is orchestrating the "plot" to see the PA dismantled. 
"Now, [Prime Minister Binyamin] Netanyahu has said the PA must choose between self-destruction or reconciliation with Hamas," an anonymous PA source told Ma'ariv Tuesday, accusing Netanyahu of "wanting the PA to be put in formaldehyde." 
"The inventor of the idea that 'disbanding [the PA] is optional, is Israel itself," PA spokesman Adnan Damari claimed to Ma'an Tuesday, "[in order] to cause confusion on the PA's streets and to pressure the PA [into talks]." Damiri added that the PA was created "out of the Palestinian struggle and not as charity from Israel and the US." 
Several MKs have brushed off or dismissed the seriousness of the PA's threats to disband, with Transportation Minister Yisrael Katz (Likud) going so far as to call the move a "bluff." The US, meanwhile, has already threatened to revoke or diminish political and financial support for the PA in the event the move goes through. 
Abbas's announcement comes in the wake of the PA torpedoing peace talks earlier this month, after it applied to over fifteen international conventions. In view of the talks' dire state, the PA has called to reconcile with Hamas once again; representatives are meeting to discuss the possibility of a unity pact later Tuesday.