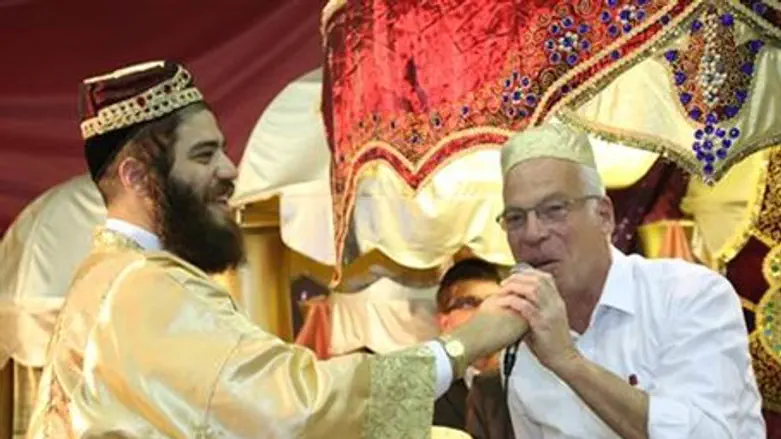 Mayor Porush, Minister Ariel
Eli Kobin, Elad Municipality
Post-Pesach Maimouna celebrations have long been a strategic venue for Israeli politicians and Monday's Maimouna was no exception. The leading candidates for the presidency, MK Reuven Rivlin (Likud) and MK Binyamin Ben-Eliezer (Labor) were both among the hundreds of guests at the central Maimouna celebration in the city of Elad.
Also attending were Tel Aviv's Chief Rabbi, Rabbi Yisrael Meir Lau; his son, the Chief Ashkenazi Rabbi, Rabbi David Lau; and Kotel Rabbi, Rabbi Shmuel Rabinovich, as well as Minister Uri Ariel and MKs Meir Porush and Yaakov Asher.
Hosting the Maimouna was Elad Mayor Yisrael Porush, who was dressed in golden Moroccan garb, despite being Ashkenazi.
The Maimouna is held on the night after the final day of Passover and features sweets, music, visits to family members and to the homes of community dignitaries. It is mostly associated with Moroccan Jewry and is named for Rabbi Moshe ben Maimon, or Maimonides.