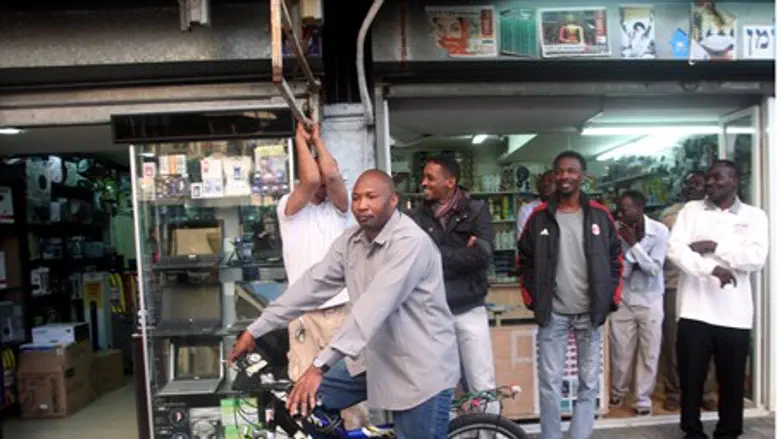 Illustration: African immigrants in Tel Aviv
Flash 90
Residents of southern Tel Aviv had to endure what an activist described as a "two day nightmare" as African migrant workers celebrated the Easter weekend in a particularly loud fashion.
"Unlike the quiet and calm religious observance that is typical of most Christians in the world," wrote activist May Golan on Facebook, "the African inflitrators' religious ritual is extroverted, accompanied by disturbing noises that emanate from the 'killer' amplifiers they install in their churches.
"The African infiltrators have turned 'Good Friday' and 'Holy Saturday' into two days of an ongoing nightmare for the residents of southern Tel Aviv, who live next to the huge churches, or have to endure the horror of having one of the churches as their neighbor inside their residential building," she explained. "The residents to whom I spoke were exposed for many long and despair-inducing hours to the thunder of drumming and very loud prayer."
The residents who called municipal authorities encountered a recording announcing that the municipality was on holiday. When they called the police, the frantic residents were answered rudely, she reported. "It's their holiday," the police curtly told residents.
"Unsurprisingly," Golan summed up, "the tolerance that the police show vis-a-vis the holiday rampage of the infiltrators is not evident when a desperate [Jewish] resident calls the police and asks it for help in quietly celebrating his holidays and Sabbaths, which are trampled to dust."