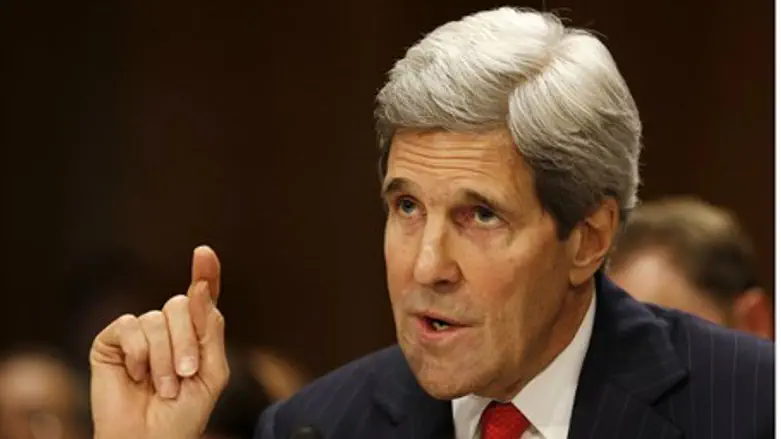 John Kerry
Reuters
US Secretary of State John Kerry on Thursday condemned notices which were sent to Jews in the eastern Ukrainian city of Donetsk, asking them to identify themselves as Jews. Kerry called the move "grotesque."
"In the year 2014, after all of the miles traveled and all of the journey of history, this is not just intolerable, it's grotesque. It is beyond unacceptable," Kerry told AFP in Geneva, where he was taking part in crisis talks on Ukraine.
The notices were sent by the "People's Republic of Donetsk," part of a pro-Russian separatist movement that has held violent protests and seized government buildings in the city. In response, the Ukrainian government on Sunday launched an "anti-terrorism" operation in the city, leaving one Ukrainian official killed and five injured, as well as untold casualties on the protesters' side.
The notice, handed out late Tuesday in front of the local synagogue by three men in camouflage uniforms and ski masks who left before police arrived, ordered Jewish residents to register with the pro-Russians or be deported. Novosti Donbassa displayed a copy of the notice, which claimed to target Jews for allegedly supporting Ukraine against the pro-Russians.
The notice orders all Jews over 16 years of age to register in front of the government building that has been occupied by pro-Russian forces. It further orders Jews to pay a registration fee of $50 before May 3 and list all real estate and vehicles owned.
"In case of failure to register, the perpetrators will be stripped of their citizenship and deported forcibly outside the country with confiscation of property," read the notice.
'Provocation' and a 'political use' of anti-Semitism?
It remains unclear whether the notice constitutes a new policy being implemented by the local pro-Russian forces, or a "provocation" to stir up violence and change facts on the ground.
The US Ambassador to Ukraine, Geoffrey Pyatt, told CNN that "everything that we're hearing is that this is the real deal, and that it is apparently coming from somebody on the ground there among these radical groups, either to stir fear or to create provocation justifying further violence."
Those estimations of "provocation" were echoed by Rabbi Pinkhas Vyshedski of the Donetsk Jewish community, who said "what happened of course smells of a provocation. As to who is behind it -- that is an open question."
Anti-Defamation League's (ADL) national director Abraham Foxman similarly raised questions about the notices, saying "we have seen a series of cynical and politically manipulative uses and accusations of anti-Semitism in Ukraine over the past year."
However, Foxman added "we strongly condemn the anti-Semitic content, but also all attempts to use anti-Semitism for political purposes."
Anti-Semitism accompanying the Ukrainian crisis
The unrest in Ukraine has brought with it a sharp rise in anti-Semitic attacks on the region's Jewish population, highlighted by such events as the stabbing of the Deputy Commander of ZAKA Kiev and Hatzalah Kiev Chairman Rabbi Hillel Cohen.
The latest clashes in Donetsk have raised even further fears of a civil war breaking out in Ukraine, between Ukrainian and pro-Russian forces.
Tzvi Magen, the former Israeli ambassador to Russia, told Arutz Sheva on Wednesday night that Russia is orchestrating the confrontations in an attempt to seize greater control over Ukraine.
Earlier this month the Crimean Peninsula, which had been part of Ukraine, held a controversial referendum vote and was annexed by Moscow after a de facto military invasion of the region.
Just last week a New York Times editorial board opinion piece argued that Kerry should leave the peace talks, and instead devote his "attention to other major international challenges like Ukraine."