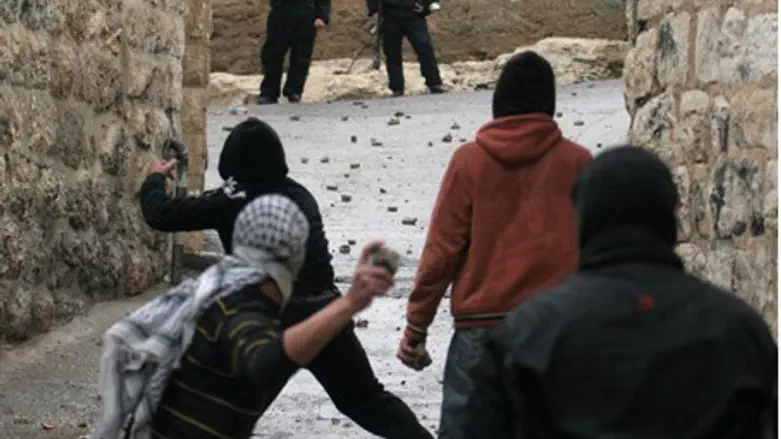 Arab rioters throw rocks at police (file)
Flash 90
While thousands of Arab residents of Hevron marched through the city on Thursday afternoon to mark "Prisoners' Day," dozens of them rioted, throwing rocks at IDF soldiers and border patrol officers. 
Security forces responded by using riot control gear, lightly wounding one of the rioters in the process.
On Prisoners Day, Arab residents of Judea, Samaria and Gaza demonstrate for the release of Israeli-held Arab terrorists.
AFP reports that massive protests were being held across Judea, Samaria and Gaza for Prisoners Day. Hundreds took part in early rallies in the Hamas-enclave of Gaza on Wednesday night.
In Hevron, roughly 2,000 local Arabs reportedly marched with photos of jailed terrorists while waving Palestinian Authority (PA) flags. Another 1,000 protested in Shechem in Samaria.
In the city's Jewish neighborhood, celebrations were held Thursday to mark the Pesach (Passover) holiday.
The Hevron clash comes just days after Chief Superintendent Baruch Mizrahi Hy''d was murdered by Arab terrorists near Hevron, as he drove to Kiryat Arba for a Passover Seder meal just before the holiday on Monday.
It also comes a day after Muslim rioters on the Temple Mount threw rocks and firecrackers at police on Wednesday. In response the holiest site in Judaism was closed to Jews, not Muslims, in a move that sparked outrage. Muslim rioters similarly took control of the Temple Mount on Monday before Passover began, waving Hamas flags and blocking Jews from entering.
The issue of terrorist releases is a particularly touchy one now, given US Secretary of State John Kerry's blaming of Israel last Tuesday for collapsing the peace talks by putting the final terrorist release on hold, and later announcing 700 housing units in Jerusalem. A construction freeze was not part of the talk conditions.
However, a talk condition was indeed breached that same first week of April when PA Chairman Mahmoud Abbas requested to join 15 international conventions. Following the breach of conditions, the release of terrorists was officially cancelled.
Israel had initially put the last batch of releases on hold due to the total lack of progress in the peace talks, with progress being a condition for the releases that were meant as a "gesture" to encourage talks.